Selena Gomez and Taylor Swift
Selena Gomez and Taylor Swift are like peanut butter and jelly – they just go together, which is why they're such good friends! These two powerhouses have been slaying the music scene for years.
Selena's been serving us hits since she was a Disney Channel star, while Taylor's been dominating the charts with her catchy tunes and breakup anthems. Not to mention their fashion sense! Selena's got that edgy chic thing going on, while Taylor's all about that classic glam.
Selena Gomez and Taylor Swift – Combined
This hybrid is an interesting mix of Selena's sultry features and Taylor's signature red lips. We can't decide if we're scared or fascinated by this combo.
One thing's for sure, though, this creation is definitely giving us some serious pop-star vibes. We wouldn't be surprised if this hybrid started churning out chart-topping hits any day now!
Andrew Garfield and Robert Pattinson
Andrew Garfield and Robert Pattinson have been thick as thieves since they were struggling actors in London. But since then, they've both made it big in Tinseltown. They've both found fame in many ways, including donning superhero tights.
Andrew played Spiderman and Robert was the incomparable Batman. These two have come a long way since their early days in London, but one thing's for sure – they're still the best of mates!
Andrew Garfield and Robert Pattinson – Combined
Ladies and gentlemen, the combination no one asked for… Andrew Garfield and Robert Pattinson! This A.I. mashup has given birth to a brooding, intense hybrid that would make any superhero movie director weak at the knees.
With Garfield's sharp jawline and Pattinson's piercing gaze, this hybrid has got us feeling some type of way. We can't help but wonder what it would be like if Spiderman and Batman joined forces. We're pretty sure the result would be unstoppable, and probably a little bit angsty.
Dolly Parton and Miley Cyrus
It turns out that Miley Cyrus has a fairy godmother in the form of none other than the legendary Dolly Parton. That's right, the queen of country music herself is Miley's godmother!
Can you imagine how amazing those family gatherings must be? We can just picture Dolly dishing out advice on how to make it big in the music biz while Miley shows off her signature twerking moves.
Dolly Parton and Miley Cyrus – Combined
Ever wonder what it'd look like if the two icons were mashed together? It looks like we've got ourselves an answer, thanks to some clever A.I. wizardry. With Miley's blonde locks and edgy tattoos mixed with Dolly's signature makeup look, we can't decide if we want to take this woman out to a honky-tonk or a rock concert.
Either way, we're sure it'd be a wild ride. We're also pretty sure that this hybrid would be able to belt out some seriously impressive tunes, just like these ladies.
Margot Robbie and Ryan Gosling
Get ready to dust off your old Barbie dolls and dream up some fabulous adventures, because Margot Robbie and Ryan Gosling are bringing the iconic toy couple to life on the big screen!
That's right, Margot and Ryan have been cast as Barbie and Ken in the 2023 Barbie movie. We can already hear the collective swoon from fans everywhere!
Margot Robbie and Ryan Gosling – Combined
After all, Margot Robbie and Ryan Gosling are the perfect heartthrob combo and would most likely make the perfect merger, so get ready… The combination of Robbie's beautiful looks and Gosling's dreamy eyes make this individual a real threat.
This creation would definitely have some significant star power, that much is certain. We wouldn't be shocked if they turn out to be the next big thing in Hollywood.
Jonathan Majors and Michael B. Jordan
Jonathan Majors and Michael B. Jordan are tag-teaming for the 2023 film, Creed III. That's right, these two heartthrobs are set to share the big screen as they step into the ring as Adonis Creed and his rival.
With Jonathan's captivating performances in Lovecraft Country and Michael's swoon-worthy looks and knockout performances in Black Panther, this is a dream come true for fans everywhere.
Jonathan Majors and Michael B. Jordan – Combined
Get ready for a double dose of hotness, folks! We've got ourselves a Jonathan Majors and Michael B. Jordan hybrid, courtesy of A.I. technology. This individual would be the perfect combination of Majors' smoldering intensity and Jordan's chiseled good looks.
We can't help but imagine them taking over the world with their charisma and charm. It could lead to a bit of idol worship, for sure! All we can say is we're glad we live in a world where this kind of beauty can exist.
Austin Butler and Elvis Presley
Ladies and gentlemen, get ready to shake, rattle, and roll because Austin Butler took on the role of the one and only Elvis Presley – that's right, the King of Rock himself!
Austin has also been making waves in Hollywood with roles in Once Upon a Time in Hollywood and The Carrie Diaries.
Austin Butler and Elvis Presley – Combined
Uh-huh, thank you very much! Austin Butler just got a lot of press for portraying the king of rock and roll! But what would happen if you merged the two into one person?
Thanks to some A.I. magic, this is a perfect blend of Butler's boyish charm and Presley's rock 'n' roll swagger. Can you imagine him strumming on a guitar and shaking his hips like a true king of rock and roll?
Dwayne Johnson and Jason Momoa
Hold on tight, folks, because two of the beefiest dudes in Hollywood are about to team up as DC superheroes! That's right, Dwayne "The Rock" Johnson and Jason Momoa are set to kick butt and take names in the DC universe.
With Dwayne's brawn and charisma in films like Jumanji and Fast and Furious, and Jason's rugged good looks and bad boy persona in Aquaman and Game of Thrones, these two are basically already superheroes in real life.
Dwayne Johnson and Jason Momoa – Combined
Hold on to your hats, folks, because we've got the ultimate action hero hybrid – Dwayne Johnson and Jason Momoa brought to you by A.I. Johnson's bulging biceps and Momoa's rugged good looks can surely bring us a pretty amazing individual.
This is one that can easily take on all the bad guys and save the world, one muscle flex at a time. We just hope he doesn't get too caught up in his own hype and start bench-pressing cars.
Lily Tomlin and Jane Fonda
Get ready to feel some serious friendship envy, folks, because Lily Tomlin and Jane Fonda have been BFFs for over four decades! That's right, these two legends of the screen have been tight since the '70s.
They've been through it all together! From starring in classic comedies like 9 to 5 to navigating the ups and downs of life in the spotlight. We can only imagine the hilarious hijinks and deep heart-to-hearts these two have shared over the years.
Lily Tomlin and Jane Fonda – Combined
With Lily's quick wit and Jane's grace and humor, these two are the ultimate dynamic duo. The two iconic actresses would make the ideal combination of quirky comedy and enduring beauty.
Without a doubt, this woman would rock the globe! It goes without saying that as soon as she'd enter a room, everyone would start laughing and applauding together.
Oscar Isaac and Pedro Pascal
Oscar Isaac and Pedro Pascal have been best buds since way back in the day when they starred in an off-Broadway show together. That's right, these two talented gents go way back – like, pre-fame back.
We can only imagine the crazy times they had, rehearsing lines and sharing cheap pizza slices between shows. With Oscar's smoldering good looks and Pedro's captivating performances in The Mandalorian and Narcos, it's hard to believe they haven't been famous since birth.
Oscar Isaac and Pedro Pascal – Combined
You can't go anywhere today without seeing Pedro Pascal, so it's not surprising that someone played with AI a little and came up with this spicy concoction. Oscar Isaac and Pedro Pascal!
It's a perfect blend of Isaac's smoldering intensity and Pascal's suave charm. Just looking at this combination, you know that they'd capture everyone's eye on the red carpet.
Don Cheadle and Terrence Howard
Hey, superhero fans, did you know that there have been not one, but two actors who've played Rhodey in the Iron Man series? That's right, Don Cheadle and Terrence Howard have both strapped on the suit as Tony Stark's right-hand man.
We're not sure how it all went down behind the scenes, but we do know that Don took over the role in Iron Man 2.
Don Cheadle and Terrence Howard – Combined
With that in mind, get ready for a Marvel-ous combination, folks, because we've got a Don Cheadle and Terrence Howard AI-generated combination for you! This would be the ideal blend of Cheadle's cool confidence and Howard's suave style.
We wouldn't be surprised if they donned a suit and saved the world alongside Iron Man himself. Everyone would be asking for their autograph, for sure.
Kim Kardashian and Kris Jenner
Let's keep up with some hilarious family dynamics because it's no secret that Kim Kardashian is Kris Jenner's daughter.
With Kim's fashion empire and Kris' business savvy, this mother-daughter duo is a force to be reckoned with. Just imagine what would happen if you combined them to be one person.
Kim Kardashian and Kris Jenner – Combined
So, how about combining a mother-daughter combo like Kim Kardashian and Kris Jenner? Hold onto your contour kits, folks, this combo could deliver us the perfect blend of Kardashian's glamor and Jenner's business savvy.
Imagine the beauty empire that this mega mogul would run! Everyone would be so enamored by this person, they'd be clamoring for all their beauty and wisdom, for sure!
Tom Hiddleston and Chris Hemsworth
Grab your hammer and suit up with your Loki horns, because Tom Hiddleston and Chris Hemsworth have played brothers in several Marvel movies. We've watched them bicker, battle, and team up to save the universe on more than one occasion as the superhero, Thor, and his mischievous brother, Loki.
With Tom's mischievous charm in The Night Manager and Kong: Skull Island and Chris' brawn and humor in Thor and Avengers, these two make a dynamic duo.
Tom Hiddleston and Chris Hemsworth – Combined
We have a hero-like combination on our hands here, with Tom Hiddleston and Chris Hemsworth. With a little AI magic, they've been blended together to create the ultimate superhero – or supervillain – depending on the day.
With a little of Hiddleston's mischievous charm and a bit of Hemsworth's brawny physique, they'll be able to wield Thor's hammer while also delivering Loki's cunning wit. That said, we don't need another Ragnarok on our hands. We just hope this one doesn't cause too much chaos.
Stephanie Hsu and Michelle Yeoh
It's time to break out the popcorn because Stephanie Hsu and Michelle Yeoh are first-time Oscar nominees for their roles as mother and daughter in Everything Everywhere All at Once. That's right, this dynamic duo has finally been recognized for their talent and hard work in bringing this epic story to life!
With Stephanie's hilarious charm in The Marvelous Mrs. Maisel and Michelle's tough energy in Crouching Tiger, Hidden Dragon, and Star Trek: Discovery, they both bring their A-game to the screen every time they grace it.
Stephanie Hsu and Michelle Yeoh – Combined
Stephanie Hsu and Michelle Yeoh in one body! A.I. technology has been used to create the ultimate powerhouse! Blending Hsu's bubbly energy and Yeoh's commanding presence could lead to a whole slew of amazing martial arts films.
Maybe even a musical martial arts film? We know we'd be pretty impressed by her talent and grace. Talk about an epic karaoke battle!
Shawn Mendes and Manu Rios
Hold on tight, ladies and gents, because Shawn Mendes and Manu Rios are currently taking up residence in our collective daydreams. That's right, these two heartthrobs are lighting up the screen and setting our hearts aflutter with their charming smiles and swoon-worthy voices.
With Shawn's catchy tunes like "Stitches" and "In My Blood," and Manu's on-screen charisma in Elite and Toc Toc, they both know how to make us weak in the knees.
Shawn Mendes and Manu Rios – Combined
Heartthrob alert! Shawn Mendes and Manu Rios have been blended together with A.I. technology to create the ultimate dreamboat! Combining the boyish charm of Mendes and Rios' smoldering gaze, you get a guy that any girl would swoon over.
This is one that we can only dream would lock onto our eyes and serenade us with some sweet melodies. If this was real, all we could say is make sure you have emergency services on speed dial because there's going to be some fainting going on.
Amy Adams and Glenn Close
Amy Adams and Glenn Close – these two powerhouse actresses have collectively racked up an impressive 14 Oscar nominations, but have somehow never managed to snag the golden statuette. What gives, Hollywood?
With Amy's stunning performances in American Hustle and Arrival, and Glenn's iconic roles in Fatal Attraction and The Wife, they've proven time and time again that they're top-notch talent.
Amy Adams and Glenn Close – Combined
What do you get when you combine two powerhouse actresses like Amy Adams and Glenn Close? An individual that exudes elegance, grace, and talent! This A.I.-assisted blend of the two legendary actresses is a sight to behold.
Just looking at this image is like taking a masterclass in acting. With Close's regal presence and Adams' infectious smile, this person would be a force to be reckoned with.
Emily Blunt and John Krasinski
Alright, everyone grab a tissue, because Emily Blunt and John Krasinski have been married for more than a whopping 12 years! That's right, the Hollywood power couple has been going strong since 2010 and they're still making us believe in true love.
With Emily's mesmerizing performances in The Devil Wears Prada and A Quiet Place, and John's hilarious antics in The Office and Jack Ryan, they're both total gems in their respective fields. But together, they're just unstoppable.
Emily Blunt and John Krasinski – Combined
Have you seen the latest celebrity faces combined together with the help of A.I.? There's one combination that's a little unnerving, and it's Emily Blunt and John Krasinski.
Don't get us wrong, they're both great actors and very good-looking. But in this instance, the AI face looks like a distorted version of the couple. It's like staring at one of those optical illusions that make your brain hurt. We don't know about you, but we think we'll stick to seeing them separately on the big screen.
Meg Ryan and Dennis Quaid
Alright, let's take a trip down memory lane to the '90s when Meg Ryan and Dennis Quaid were the ultimate Hollywood power couple. These two lovebirds tied the knot in 1991 and went on to co-star in several films together, including D.O.A. and Innerspace.
But, unfortunately, their fairytale romance didn't last forever and they divorced in 2001. While we may shed a tear for their lost love, we can't forget the iconic roles they played on the big screen.
Meg Ryan and Dennis Quaid – Combined
Well, well, well, here's a combination that's a bit… interesting. Meg Ryan and Dennis Quaid's faces combined using A.I. We're not sure if we should be scared or amazed. On one hand, you have the quintessential '90s sweetheart Meg Ryan, and on the other, the handsome Dennis Quaid.
But combined, it's like looking at a person who's both familiar and unfamiliar at the same time. Surprisingly, this face looks pretty close to their real-life child! AI is kind of scary!
Brad Pitt and Leonardo DiCaprio
These two heartthrobs have been gracing the silver screen for decades now and have certainly left their mark on Hollywood. We all remember them as the dynamic duo in Once Upon a Time… in Hollywood, where they played a stunt double and actor.
But let's not forget their individual successes. Brad has given us memorable performances in Fight Club and Mr. & Mrs. Smith, while Leo has wowed us in The Revenant and The Wolf of Wall Street.
Brad Pitt and Leonardo DiCaprio – Combined
Well, folks, the moment we've all been waiting for… Brad Pitt and Leonardo DiCaprio combined into one beautiful face! This AI image has got those piercing blue eyes and a perfectly chiseled jawline.
What can be wrong with that? It's like they had a beautiful baby that's set to create quite a stir in Hollywood and on screens across the globe.
Billie Eilish and Cara Delevingne
Billie Eilish and Cara Delevingne are two of the coolest chicks around, and they have more in common than you might think.
Both of these babes have made waves in the entertainment industry, Billie with her unique sound and edgy style, and Cara with her modeling and acting career. It's no wonder these two have become style icons for young women everywhere.
Billie Eilish and Cara Delevingne – Combined
When their faces were combined using A.I., the result was bound to be amazing. And boy, was it ever! The combination gave us a stunningly unique look that had us all wishing we could rock the style just as well as these two strong ladies.
Who knew that combining two such distinct faces could create something so surprisingly beautiful? We guess it just goes to show that the possibilities are endless with the power of A.I.!
Kristen Stewart and Megan Fox
Kristen Stewart and Megan Fox are two strong babes who have both made a name for themselves in Hollywood. Both of them are known for their stunning good looks and acting chops. Kristen is known for her role in the Twilight series, and Megan for her work in Transformers.
But these ladies have more in common than just their stunning beauty and talent. They've also both been known to push the envelope when it comes to fashion.
Kristen Stewart and Megan Fox – Combined
Whoa, Kristen Stewart and Megan Fox together are totally out of this world! A.I. has truly excelled with this one! It was able to create a spectacular masterpiece by fusing the qualities of two of Hollywood's most alluring women.
The end product is a stunning creature with piercing eyes and full lips. It's like staring at a fantastical creature that you can't look away from. Even though we're not sure what to name it, this masterpiece is unquestionably a work of art.
Blake Lively and Ryan Reynolds
Blake Lively and Ryan Reynolds are the ultimate Hollywood power couple. Not only are they both ridiculously good-looking, but they also have a great sense of humor. Blake is best known for her role as Serena van der Woodsen in Gossip Girl, while Ryan has made us laugh in movies like Deadpool and The Proposal.
But what we love most about these two is their hilarious banter on social media. Whether it's Blake trolling Ryan on his birthday or Ryan poking fun at Blake's baking skills, these two know how to keep things fun and lighthearted.
Blake Lively and Ryan Reynolds – Combined
If you're a fan of both Blake Lively and Ryan Reynolds, you might want to look away from their A.I.-generated mashup. It's like the A.I. took Ryan's chiseled jawline and Blake's bright eyes and put them in a blender, but forgot to turn it off before it got too weird.
It's not scary, but it's definitely not beautiful, either. Maybe it's best just to let these two gorgeous actors stay in their own lanes and not mess with A.I.
45 Wildest Outfits Celebs Have Worn to Music Award Shows Over the Years
Grace Jones — 1983 VMAs
If there's one thing that model, singer, and actress Grace Jones knows how to do, it's to draw attention when she walks into a room.
At the 1983 VMAs, she brought her signature Avant-garde approach to fashion with this look. The most eye-catching thing about this look — aside from the space-age outline of the outfit — is the ultra-wide hat brim. Rick James even stopped to pose under it at one point!
Madonna — 1990 VMAs
In 1990, when Madonna attended the VMAs, she rocked a look that no one really saw coming from the pop queen at the time. It's one few could forget.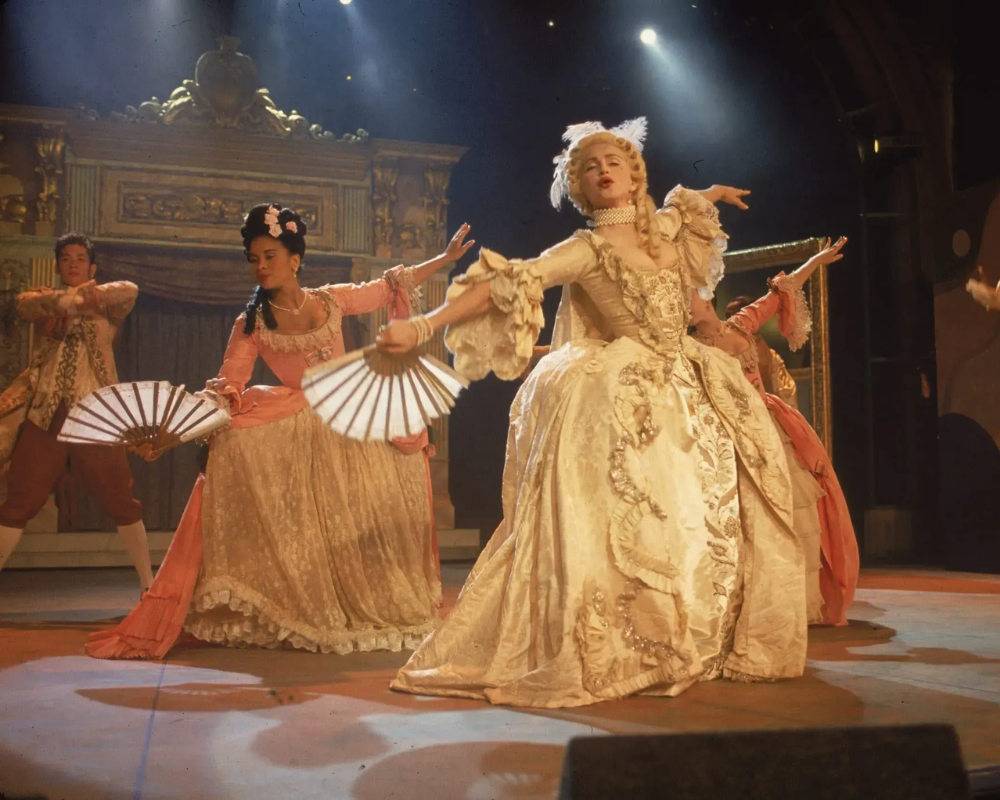 When Madonna came on stage to perform "Vogue", the singer had chosen one of the wildest ensembles of the night that better resembled the French Revolution than the '90s pop scene. Like many performances, Madonna and her coordinated dancers somehow pulled the look off.
Pamela Anderson — 1999 VMAs
Pamela Anderson is well-versed in catching the camera's eye when she hits the red carpet. The 1999 VMAs were no different.
One of her wildest looks from the awards show season relied on a variety of textures and patterns that definitely falls under the "maximalist" approach to fashion. The star wore sequined, patterned pants paired with a white corset and — perhaps the real focal point — an oversized, pink, fluffy hat.
Jennifer Lopez — 2000 Grammys
Awards shows are a great chance to show off the best designer looks on the red carpet. Jennifer Lopez really changed things with this green dress. The star wore the plunging green dress to the 200 Grammys.
If the executive chairman of Google Eric Schmidt is to be believed, we can even thank this dress in part for the existence of Google Images. As for J.Lo herself, she said, "It was a nice dress. I had no idea it was going to become such a big deal."
Pink — 2000 VMAs
Pink has long been noted for her distinct style. Back in 2000, at the VMAs, she went for a colorful look that we're still talking about more than 20 years later.
The star went for an eye-catching hairstyle that lived up to their name and from there, it was all gold and denim. In real early 2000s fashion, she opted for a crop top and a pair of jeans — with the waistband cut off, of course.
Toni Braxton — 2001 Grammys
There are some dresses that are ultimately rather simple but they still stand out for years to follow their appearance. That's what happened with this 2001 Toni Braxton dress.
Attending the Grammys, the singer wore a long white gown designed by Richard Tyler that left little to the imagination. When asked about the iconic dress, Braxton told US Magazine, "I've always gone a little risque with all my other awards [show outfits]. I decided that before I got married and had babies, I'd wear this."
Macy Gray — 2001 VMAs
Musicians release new albums much to their fan's delight all the time. However, the ways they might announce them might be different.
Macy Gray fans following the 2001 VMAs had the chance to see the release date of her then-new album — and all thanks to the dress she wore! The front read "My new album drops Sept. 18th, 2001" while the back demanded fans to "Buy it!" Who could say no to that order?
Britney Spears and Justin Timberlake — 2001 AMAs
Sometimes, our favorite celebrities can take current trends and really make them larger than life. Everyone loved denim in the early 2000s, right?
Still, one of the wildest and most unforgettable outfits is hands-down Justin Timberlake and Britney Spears' matching ensemble — which they wore to the 2001 AMAs. A full-length denim gown alongside a denim suit with a matching Stetson is a look that no one forgot.
Britney Spears — 2001 VMAs
Of course, you don't become an icon like Britney Spears on one outfit alone. She'd attend the VMAs that same year with an iconic accessory.
Stepping on stage to perform her song "Slave 4 U". The outfit was already a great look for Spears but what really made it memorable was the giant snake draped across her shoulders for the duration of the performance! It seems like this is an accessory that would take a lot of upper body strength.
Jonathan Arndt — 2004 CMAs
This snapshot of Martina McBride and Jonathan Arndt really shows how he went with the wildest options in his wardrobe to attend the 2004 CMAs.
The outfit here is made up of pastels but the colors are only part of what makes it so shocking. The brocade jacket and fur collar really tie it all together to shock everyone seeing it. Plus, with all the jewelry and props, who could forget this look?
Eddie Montgomery — 2005 CMAs
Still, we're not so sure that Big Kenny had the wildest outfit at the 2005 CMAs. It seems like Eddie Montgomery was ready to give him a run for his money. At an awards show where we've seen a lot of jeans and suits, this outfit definitely takes the cake.
The long, embroidered coat already stands out for its silhouette but the musical notes, roses, and especially the bold letters reading "Broadway" across the front of the jacket undeniably make a statement.
OK Go — 2007 Grammys
The band OK Go definitely made a visual splash at the 2007 Grammys with some of the wildest outfits of the night. The band kept their faces covered with red fabric and donned matching body suits of red and gold brocade.
They were detailed, just like a regular suit, but also included a hood and matching accessories. One band member later said, "We're dressed in the future — the future dressed us. This is actually us in an hour."
Lady Gaga — 2009 VMAs
If there's one musician that's known for rocking some of the wildest outfits that Hollywood has seen, it's Lady Gaga. She didn't disappoint at the 2009 VMAs. The star started out in what seemed like a rather tame white outfit.
That was until she took to the stage to perform her song "Paparazzi". In a real moment of music meets performance art, Gaga committed to an intense number that left her stumbling on stage soaked in fake blood to finish the song off.
Nicki Minaj — 2010 AMAs
Nicki Minaj has sported some wild looks over the years. However, the outfit she wore to the 2010 VMAs might just be one of the wildest to date.
The coral-colored dress wouldn't stand out too much on its own but Minaj knew exactly what details it needed. Who could look away from a dress with a golden exoskeleton like this? It definitely made for an unforgettable outfit.
Lady Gaga — 2010 Grammys
One of the outfits that Gaga debuted on her 2010 trip to the Grammys was this purple number that looks like it came straight from the future.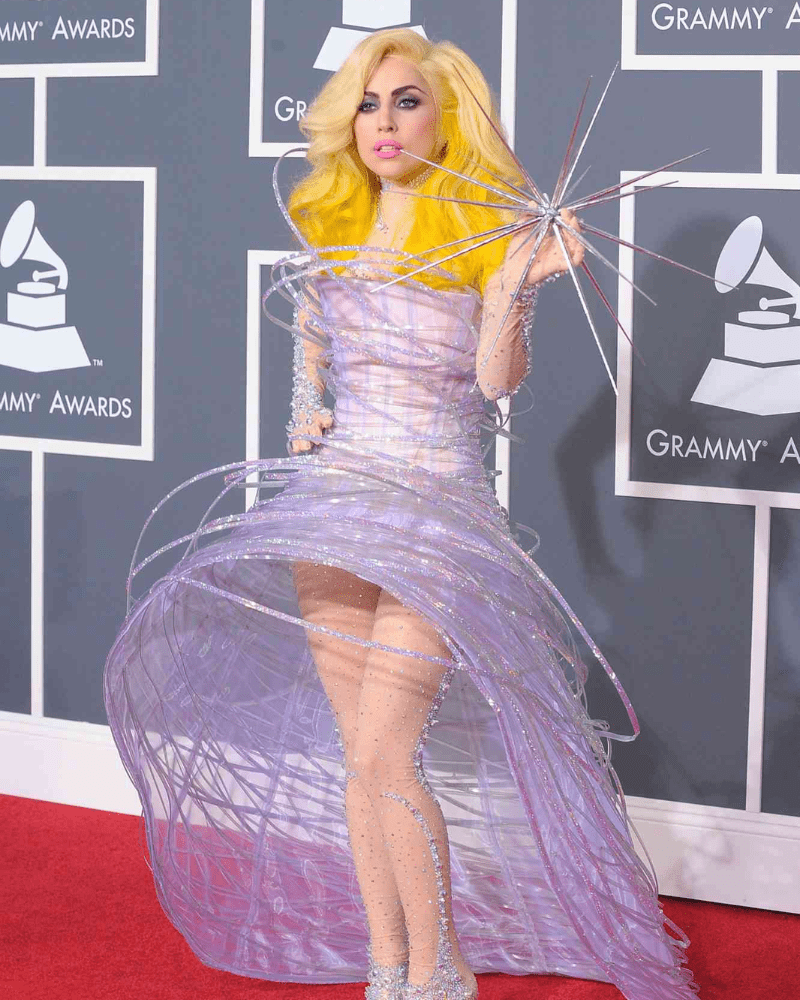 The dress was made by designer Armani Privé and it even came with a sharp accessory. Lady Gaga actually wore this dress before she performed at the show for the very first time. It's not a bad look for a debut at such a massive awards show!
Lady Gaga — 2011 Grammys
If you really want an outfit to stand out, you might want something really wild about it to draw people's attention. Alone, the neutral outfit that Gaga wore isn't too shocking.
The shocking part was how she entered the event. Photographers waiting on the red carpet were greeted with a giant egg carried by a group of people, not the singer. Well, actually, she was just inside the egg, waiting for her chance to emerge. Did you know that she was actually in the egg for about 72 hours?!
Nicki Minaj — 2011 VMAs
To make an outfit the wildest one at an awards show, you really have to think outside of the box. What can you do that hasn't been done before? Nicki Minaj definitely got wild with this silhouette and these fabric choices.
Her upper half is decked out in geometric patterns while the bottom half seems to take inspiration from some more comfortable clothes. Of course, you can't leave home without your stuffed accessories either.
Katy Perry – 2011 VMAs
For the 2011 VMAs, Katy Perry went for a very geometric look. While Katy's no stranger to eccentric outfits, this one was definitely surprising. The dress and top are fun but aren't too shocking on their own.
What really made this look stand out was the choice of headwear for the look. We all know the right hat can bring a look together but we probably wouldn't have thought of this accessory.
Miley Cyrus — 2013 VMAs
After her years at Disney ended, Miley Cyrus really started to take her looks up a notch at awards shows. Some of them have been really shocking!
The bejeweled outfit that she wore at the start of the show was great but didn't necessarily stand out as weird or wild. That came later when she took to the stage in a bear leotard to perform "We Can't Stop". Of course, the giant dancing bears helped with the overall weirdness factor.
Frankie Grande — 2014 AMAs
Ariana Grande has stolen the show at many musical events. At the 2014 AMAs, though, it was brother Frankie Grande that stood out.
This is one outfit that really highlights that sometimes it's what you don't wear that will make you stand out. It doesn't take an eagle eye to see that Grande opted for a painted-on shirt. Like many others on YouTube at the time, Grande didn't skip out on the neon hair either.
Katy Perry and Riff Raff — 2014 VMAs
Earlier, we took a look at Justin Timberlake and Britney Spears' iconic matching denim outfits in the early 2000s. It seems like they weren't the only ones who wanted to rock it either.
For the 2014 VMAs, Katy Perry and Riff Raff decided to pay homage to the famous red carpet look. All in all, they recreated it rather well. It's definitely reworked for their particular styles, though.
Miley Cyrus — 2015 VMAs
Of course, Miley Cyrus wasn't going to get on this list for only one of her VMA looks. She pulled out another creative option for the 2015 VMAs.
She showed up decked out in a pink latex dress complete with balloon accessories reading "Do It" across the front — a nod to one of Cyrus' own songs. Of course, she needed the perfect hair accessories and with so much pink, it seemed a pig bow was appropriate.
Baddie Winkle — 2016 VMAs
Who says that you have to stop donning your wildest looks as you age? That's one myth that it seems that Baddie Winkle has been determined to make.
At the 2016 VMAs, she showed up in a body suit reminiscent of the look Britney Spears wore for part of her music video for "Toxic". Naturally, Baddie Winkle wasn't about to skip out on her accessories either. Even her cane is bedazzled to match the look!
CeeLo Green — 2017 Grammys
CeeLo Green is no stranger to attending awards shows. So, it makes sense that he knew just how to stand out when he donned this look.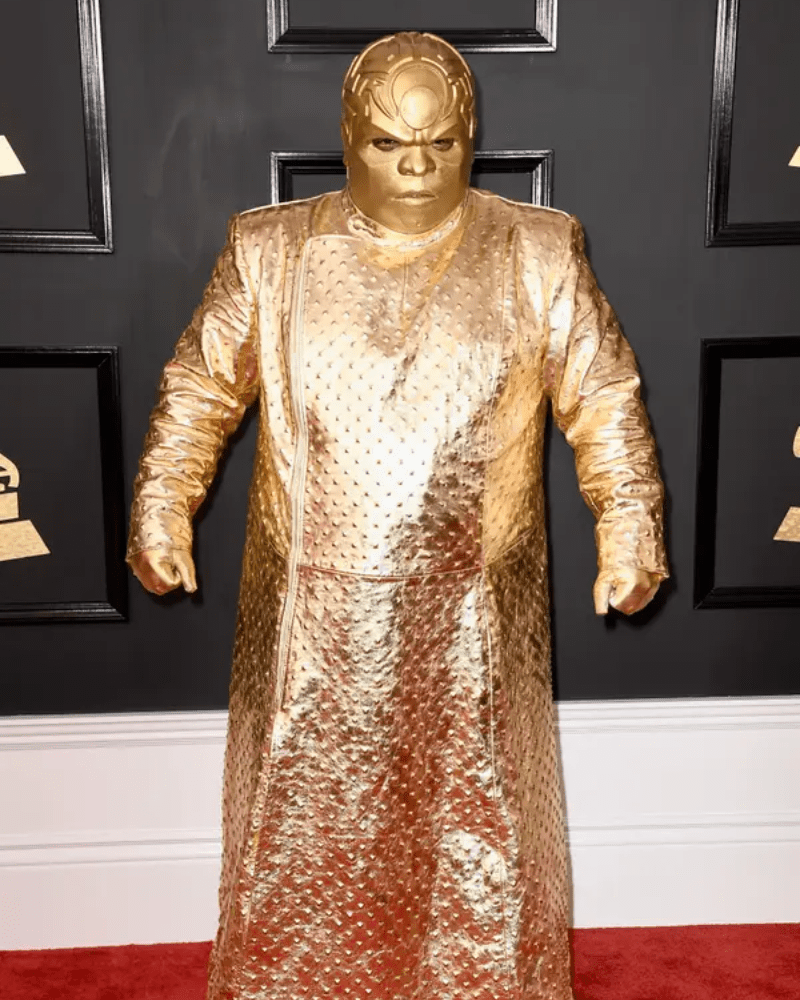 The star showed up to the 2017 Grammys in an outfit that was impossible to miss. He wore gold from head to toe, complete with gold gloves and a gold helmet, so nothing but gold was showing. The memorable look definitely got fans talking.
Cardi B — 2019 Grammys
Cardi B looked her best in this dress that really brings to mind Botecelli's Venus emerging from the sea. There's more than just a silhouette here, though.
The dress was made by Mugler and it has no shortage of pearls and silk to pull the look together. She even has a tower of pearls in her hair! She was dressed to impress — and that she did. In fact, later that night, she became the first woman to win the Grammy for Best Rap Album.
Sophie Turner — 2019 Billboard Music Awards
Sophie Turner skipped the usual gown for a bodysuit at the 2019 Billboard Music Awards. The look was bold and it definitely caught people's eyes.
The getup brought a variety of opinions from critics but a few things made the outfit stand out. For one, the pattern of the silver bodysuit stood out. The silhouette also stood out, thanks to the sharp shoulders hanging a little lower than shoulder pads would.
Billy Porter — 2020 Grammys
Billy Porter knows exactly how to stop the paparazzi with his red carpet looks. The American Horror Story alum had one of his wildest looks for the 2020 Grammys.
For this look, Porter was head to toe in sequins, adding silver tassels on his hat and pants legs. The fringe on the hat was more than just decorative, though. At Porter's command — or his stylist's — the fringe opened to reveal the actor's face.
The Weeknd — 2020 VMAs
There are some looks at the VMAs that really stand out for the effects that go with them. The suit The Weeknd wore to the 2020 VMAs wasn't too shocking.
His makeup, on the other hand, caught people's eyes. After all, it was a pretty realistic rendering of what he might look like after a fight. The look ended up being promotional for his new video and he'd don it again a few more times the next year.
Doja Cat — 2021 VMAs
Doja Cat has often challenged expectations when it comes to fashion. This look really is no different but it surprised many viewers. In 2021, the singer attended the VMAs in this number.
Well, she wore a few different outfits throughout the night but this one was by far the most memorable. She donned this getup onstage while accepting a VMA award, admitting that "I look like a worm. That's done. I never thought I'd be dressed as a worm while accepting an award."
Machine Gun Kelly — 2022 AMAs
More than once, Machine Gun Kelly has made headlines for some outrageous outfits at various events. This one really turned some heads, though.
A purple suit really isn't that shocking at the AMAs. In 2022, Machine Gun Kelly wore this purple suit to the AMAs and it's easy to see why it stood out. If nothing else, it would definitely keep people from getting into your personal space.
Lizzo – 2023 Grammys
Lizzo has skyrocketed to fame and it's easy to see why! The star makes great music and has a charming personality that draws fans in. She made an impression in florals at the 2023 Grammys.
The singer had a two-layered look. The base of the look is an orange gown that's gorgeous in its own right. However, it was the cloak of roses that really made this outfit as memorable as possible.
Harry Styles — 2023 Grammys
There are some stars that need no introduction. At this point, it seems like Harry Styles definitely qualifies as one of these superstars.
The star opted for a multi-colored jumpsuit. It could almost look like a patchwork pattern if all the pieces weren't given a sequined effect to make sure this wild look still catches the light.
Alisha Gaddis — 2023 Grammys
Lizzo wasn't the only one to bring florals to the red carpet at the 2023 Grammys. It was a trend Alisha Gaddis decided to play into as well. Still, the two gowns have a lot of differences.
Compared to Lizzo's more monochromatic look, this colorful piece gives us a variety of flowers. It's a gown that almost brings to mind Florence Pugh's flower-covered look in Midsommar.
Sam Smith — 2023 Grammys
Sam Smith stood out on the red carpet at the 2023 Grammys but they were ready with an entire ensemble look with a few other stars.
In all, they showed up with Kim Petras, Violet Chacki, Gottmik, and more. They led the crew in a red cloak and gloves, complete with a cane and top hat. If that wasn't interesting enough, the top hat featured a veil too.
Shania Twain — 2023 Grammys
There are some stars who just know how to get the camera's attention. Shania Twain definitely did that for the 2023 Grammys.
The singer went for a head-to-toe cow print look. With a massive printed hat and bell-bottom pants, we literally mean from head to toe. Now, would it really be a glam red carpet look if those cow spots weren't sequined?
Blac Chyna — 2023 Grammys
Blac Chyna knows how to work the spotlight but even this look was surprising to many fans. Who could have expected it? The short dress brings to mind images of the Black Swan.
Of course, it seems like Blac Chyna took things to the extreme. Wouldn't it be pretty hard to do ballet in an outfit like this? One thing is for certain — this dress had no shortage of different textures to experiment with.
Dencia — 2023 Grammys
Dencia had another iconic look to bring to the 2023 Grammys. It seems like everyone really brought out their best at this event! Dencia's look was almost the classic black gown.
Instead of a plunging neckline like J.Lo, though, she opted for a high collar encrusted with blue and green jewels. If you look closely, her dress also has black jewels nestled into the fabric as well. The cobra-like dress really captured everyone's attention as she made her way across the red carpet.
Lucky Daye — 2023 Grammys
If you want to wear a black suit to the Grammys, you have to think a bit outside of the box if you want to stand out. Lucky Daye accomplished that. To start, it's not just a black suit.
To catch the lights, there are sequins all over the outfit to make it shine. What really sets it apart, though, is the melting metallic piece to the puzzle that honestly looks a little hard to move around in.
Billy Dean — 2003 CMAs
The CMAs aren't often known for having some of the wildest outfits of the awards season as you might expect at the Grammys or VMAs. Still, that doesn't mean that there aren't any outfits to write home about.
In 2003, Billy Dean took to the carpet in an embroidered suit that no one was going to forget anytime soon. The back featured an embroidered American flag and the rest was decorated with stars and eagles. Very patriotic!
Jeff Bates — 2003 CMAs
It seems like Billy Dean wasn't the only one interested in embroidered jackets when the CMAs rolled around in 2003. Jeff Bates jumped on the bandwagon too, although the design he opted for wasn't quite as patriotic.
Instead, it was an eclectic mix of skulls, vines, roses, dice, cards, and more. From the looks of it, this jacket was definitely an eye-catcher. This is one trend that it seems like everyone loved at the 2003 CMAs.
Big Kenny — 2005 CMAs
In 2005, the CMAs hosted some eccentric looks and outfits. Take a look at this photo, for instance, which features Big Kenny and John Rich.
We could spend some time on John Rich's two-toned denim but it's Big Kenny's outfit that sticks out to us more. It seems almost as likely that he's going to step on stage to give us a production of Les Miserables as he is to accept an award.
Kenny and Christiev Alphin — 2009 CMAs
When you're coming to an awards show as a couple, it opens up a lot of opportunities to come up with the wildest outfit you can think of together.
Just the suit and dress that Kenny and Christiev Alphin chose for their red-carpet look wouldn't have stood out too much. No, what really makes these 2009 CMAs look stand out so much is the matching top hats that really made this so memorable.
Dillon Francis — 2022 Grammys
Usually, when you hit the red carpet, you want to look your best. For most stars, this means breaking out the mind-bogglingly expensive suits and gowns.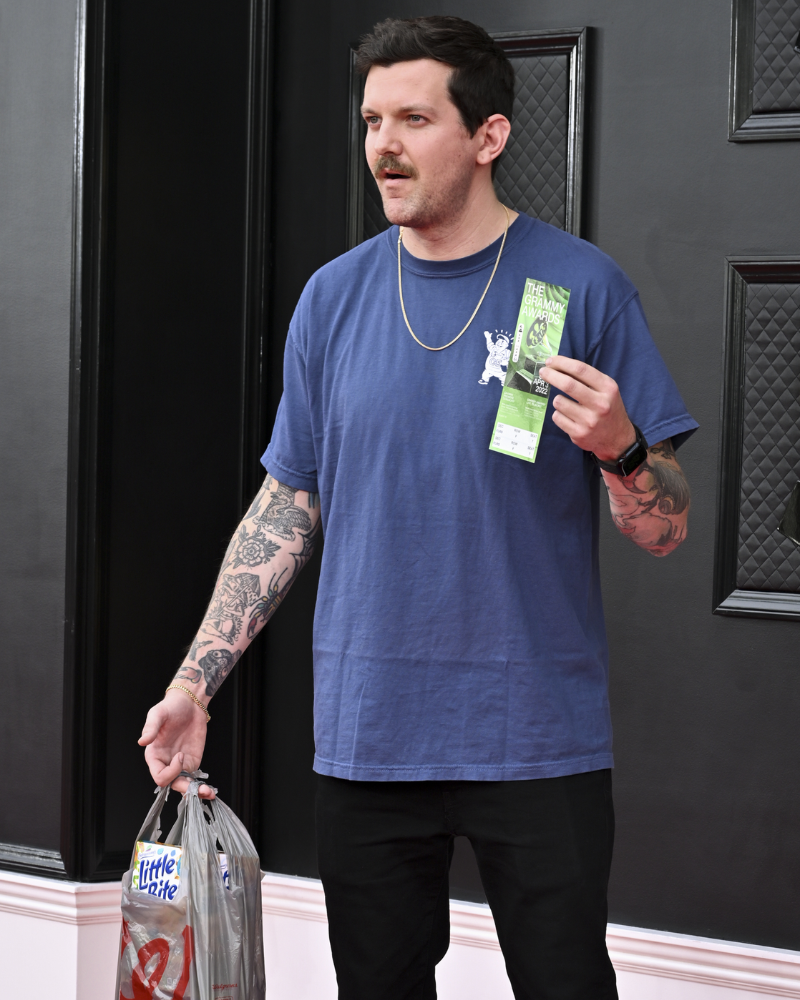 Dillon Francis thought well outside of the box and showed up in something no one was expecting when the 2022 Grammys rolled around. After all, not many people walk the red carpet in jeans and a t-shirt, carrying the snacks they bought from Walgreens on the way.