Rule One: Don't Propose
There are some things you just shouldn't do when you attend a wedding. Remember, this is someone's big day and the attention should be on the happy couple.
There are few ways to draw attention to yourself more effectively than to propose. We get that you'd want to share a special moment, like a proposal, with your loved ones. Still, you simply shouldn't steal the spotlight like this.
Actually, This Too
While we're on the subject, a proposal isn't the only thing you shouldn't do at a wedding. Anything that pulls attention away from the event and towards you is largely frowned upon.
Aside from a proposal, one of the most surefire ways to draw attention away from the newlyweds is announcing your own big news such as pregnancy. We honestly can't blame this couple too much either. We'd be pretty mad in their shoes, too!
You Invited Them?
The guest list can really make or break a wedding. Most people want to spend their big day with the people closest to them. Usually, though, this includes friends and family.
It seems like this groom was a little too close to one of the guests. Even worse, it seems like they were already together at the time. It's bad enough to cheat on someone but to invite the other person to your wedding? This is beyond inappropriate.
In Front of the Whole Class
As we've said, you want to spend your big day with special people. This dedicated teacher was so excited for her wedding, she invited her fourth-grade class to the ceremony.
This wouldn't have been too embarrassing for her if things had gone according to plan. However, the harsh reality ended up with her alone at the altar, left with the entire class in attendance. This situation would feel devastating enough without gossip at school.
You Can't Do That
Most weddings have some sort of dress code. Primarily, you usually just have to wear formalwear although some weddings may have color codes or other specifications.
While some of these can get a little out of hand, one rule is generally true — never wear a wedding dress to someone else's wedding! A lot of people think it's a faux pas to even wear white but an entire gown definitely isn't the way to go. What was this person thinking?
Are You Kidding?
If the couple buys a cake for the wedding party and announces there's only enough for everyone to have a single slice, it's best to grab your slice and move on.
We can see why someone might go back at the end of the night if there was some still there. We can't blame them for not expecting the couple to go through the CCTV footage to find the people who went over their one-slice limit. Why are they making their guest pay for a second slice? Were they planning on returning what was left of the cake to the bakery?
Stealing the Show
A wedding is usually started by a procession of the wedding party entering the area. This includes the soon-to-be-wed couple along with bridesmaids, groomsmen, flower girls, and ring bearers.
Usually, this is a pretty serious procession. People might smile or have fun but it's not great to interrupt, even if you're in the wedding party. We have to wonder what this bridesmaid and groomsman were thinking when they decided this was the entrance to go with.
"Less Waste"
We understand why you'd want to limit waste. However, sending out cards to tell everyone you're opting for E-vites seems unnecessary and a bit like a self-defeating concept.
That's not even the worst part about this scenario, though. There are a few times that people want to see confetti or glitter all over their house. It seems like this couple didn't care. Again, though, we have to wonder how they thought this saved on waste.
Finders Keepers
Weddings largely cater to the couple getting married but there's a lot for guests, too. Usually, you can at least expect some food and favors.
These favors are often small and commemorative for the people who attended. We have to wonder what this couple had that was so tempting, though. After all, it must have been something worthwhile if someone was going to react as inappropriately as this person did. Why steal everyone else's favors?
Who Are You?
There are some guests who behave so inappropriately that you have to wonder how they justified their actions. This person might be at the top of the list.
Plenty of people get remarried and stay on good terms with an ex. They may even attend the wedding and answer honestly when asked how they know the groom. Since this was only the groom's second wedding, this person's response was beyond inappropriate. It doesn't sound like it'd inspire the groom to start planning more weddings either.
Does She Know About This Post?
There are some things you can control when it comes to your wedding. Oftentimes, you can even choose what the people in your wedding party wear.
Asking someone to change their hair to match the dresses seems a bit too far. Judging from this post, too, we have to wonder if the bridesmaid in question has been asked about her hair yet. They even added a cropped photo to show the hair in question!
"Just the Family"
One of the great things about weddings is that they can really bring two whole families together. As too many people know, though, this isn't always how it works.
This person's mother-in-law sounds like she could have used a minute to really consider what she'd just asked of the bride. For one, the bride is literally a part of the family now — that's part of weddings and why you call them "in-laws." Plus, who asks the bride to step out of a photo during the wedding?
A Little Misleading
When a couple gets married, it's not uncommon to hear the story of how they met. You might even hear a shout-out if the person who introduced them is around.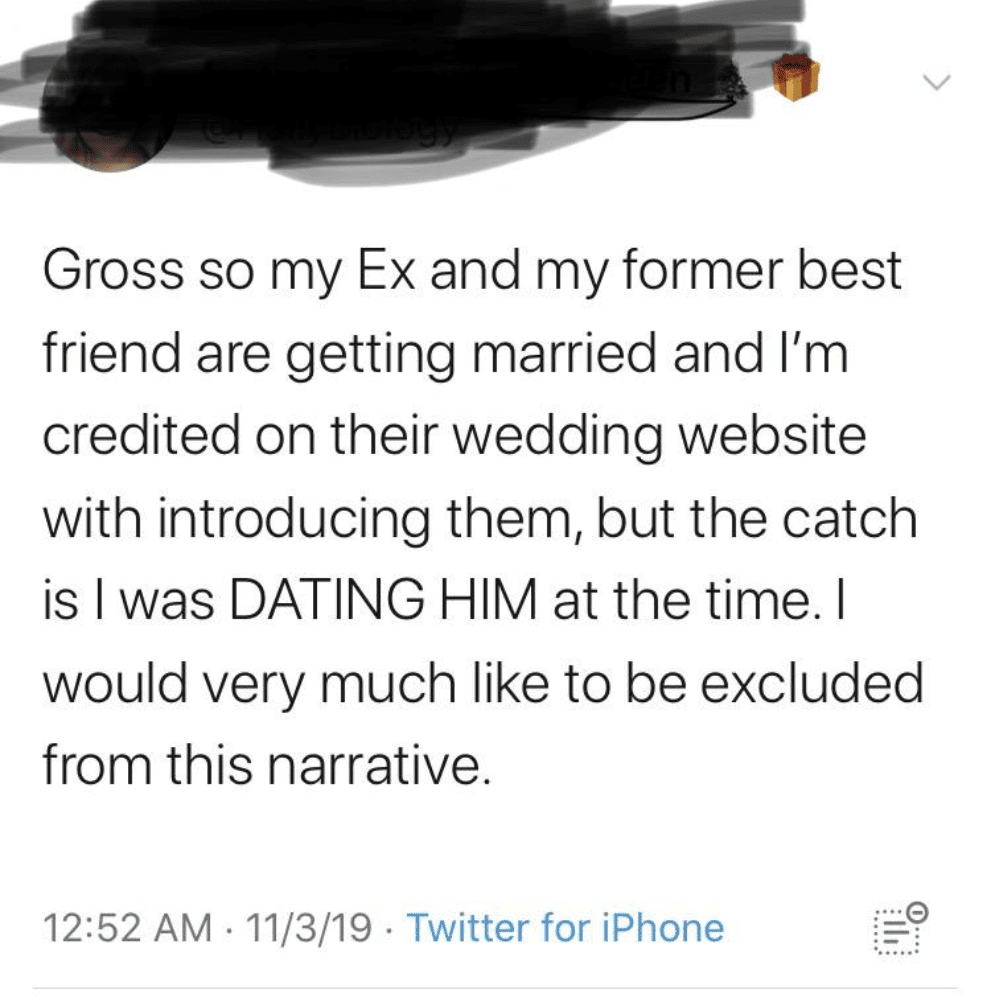 This couple did just that but it was a little misleading. Many weddings happen years after a couple meets one another through a mutual friend. In this case, the person wasn't quite a mutual friend. In reality, it seems like things started on pretty rocky terms for this now-married couple.
Why Try it on at All?
Bridal gowns are gorgeous but they can be quite cumbersome. As such, many brides opt to change into a reception dress that's easier to celebrate and dance in after the ceremony.
If something goes wrong with this dress, of course, it's stressful. It seems like this stressful moment could have been avoided as well. Trying on the dress is bad enough. Stealing both the dress and the wedding limo seems like enough to ruin your relationship with the couple permanently.
A Bit Much
Being in a wedding party isn't always cheap. It's not uncommon for bridesmaids to spend a fair amount on the dress the bride wants them in.
Plus, a wedding is a big time commitment that people schedule for. If you're changing your plans, you have to communicate that to everyone. Otherwise, you may end up with some bitter friends posting sales posts like these on social media. We can't really blame them for being angry either.
On His Wedding Day
Learning that a partner has been unfaithful is hard no matter when you learn about it. Your wedding day might be one of the worst options, though.
After all, your wedding day is supposed to be one of the happiest days of your life. You're celebrating your love with another person and the focus should be on the two of you. The last thing you want to hear in your wedding attire is that your soon-to-be life partner hasn't been faithful.
Stepping in for the Bride
There are some moments in a wedding everyone expects. When the wedding cake comes out, it's usually a pretty big moment as the couple cuts into it together.
Not at this wedding. Well, the groom was there at least. Instead of the bride, though, the groom cut the cake with his own mother. As if this wasn't bad enough, it seems clear the decision was made without the bride and she didn't even learn about it until after the deed was done!
Sneaking In?
We can only say that we're glad this person didn't try to show up in a wedding dress. The alternative they landed on isn't much better either.
Dressing in the same dress as the bridesmaids already isn't a good look. Stopping there would have been bad enough. Trying to sneak into a wedding party is just too much. Did she think no one would notice? Even if she was wearing the same dress, doesn't it make sense that they would stop her?
Do Anything Else
There are plenty of themes you can choose for your wedding. With so many options, it's a great chance to express yourselves as a couple. This choice is rather tasteless, though.
After all, these were real people victimized by the people on your table decorations. Some of them were rather recent, too! If you want a Halloween wedding with a spooky theme, there are plenty of options that don't center on real human suffering.
Unbearably Petty
There are some things that are just unacceptable. Who would want to sabotage a bride on her wedding day? It seems like this guest would.
We have to wonder, are you even close enough friends if you'd pull a stunt like this? We'd hope not. It's obvious the goal here was to ruin the dress, given the choice of red. That's an expensive and sentimental target and it's especially horrendous that they added verbal attacks on top of it.
Promises You Can't Keep
You don't have to wait until the wedding day to cause a problem at the wedding as it turns out. You can cause quite an issue before the day of the ceremony.
If you promise to make someone's wedding dress, that's a huge undertaking. If you can't do it, you should be honest about that. Otherwise, you might put the bride in an unfortunate position as this mother did. It's even worse that it seems like she never even got started, meaning she could have given the bride a lot more notice.
Late and Inappropriate
Usually, you have to worry about the guests or the wedding party when something goes wrong at a wedding. However, there are a lot of moving parts to a wedding.
This can include the outfits, venue, food, reception, and any professionals you hire. It's hard to move forward with a wedding when the person who's officiating the whole thing isn't there. You can't get married without someone to marry you. Even after they arrived, they didn't seem quite on task.
A Gift Minimum
Usually, when you go to a wedding, you bring a gift. This is something to congratulate the happy couple on their union and some send a gift if they can't physically make it to the wedding.
It's not even uncommon for a couple to have something like an Amazon registry to give people ideas. Asking everyone to spend a minimum on a gift is a bit entitled and we can't believe this couple came up with a sum so high. We can't blame this person for skipping out.
A Big Ask
When someone sets a wedding date, it isn't decided on a whim. They take into account a lot of aspects of scheduling including their own, guests, and what the venue allows.
Once a date is set, the guests don't have much room to ask for the couple to change it — just RSVP whether you can come or not. You definitely can't ask the couple to change the date just two weeks before the wedding. It's rude and often impossible!
Please Stop This
This person didn't propose at the wedding ceremony or at a reception. Still, the newly-engaged couple didn't avoid one of the rudest choices you can make at weddings. However, the circumstances around this one really blow us away.
Namely, the couple wasn't even actually newly-engaged. The couple had already had their big moment months ago. They only decided it was time for a traditional, show-stealing proposal when they were supposed to be celebrating another couple.
A Bold Move
Look, if you have feelings for someone, there are mature ways to go about it. Accepting that they're with someone else and moving on is a good way to start.
If you're feeling particularly destructive, though, crashing weddings to do this is a surefire way to ruin relationships with everyone there. First, we can't believe we have to say once again, don't wear wedding dresses to weddings if you aren't the bride. Plus, don't try to step in with the groom!
What an Awful Friend
Weddings can get expensive. So, if a friend offers to cover a service like photography as a wedding gift, it can really help out!
That's what this person promised and they did take the photos. They just didn't give them back either. Photos are often the biggest moments from weddings, so we can't blame this couple for being upset after six months of silence. Even worse, they said Maddie was active on social media the whole time, making it clear their messages were simply ignored.
Not Your Announcement
It's really not uncommon for couples to have children before their wedding or have their wedding while they're expecting. Still, that's up to the couple to share.
This best man forgot this or simply didn't care. The result? He managed to spill the bride's big news for her — before she was ready — with her whole family. Given the circumstances set out here, it doesn't seem like the speech went over well.
Involving Another Weddings
When you're at a wedding, it's best to attend as much of it as possible and step out quietly if you need to leave. Usually, this is in cases of another engagement or maybe leaving a reception early.
It isn't usually a measure to go crash other weddings at the venue. We have to give this terrible guest points for maximizing his efforts, we guess. It's not often you hear about someone crashing two parties at once.
This Might Not Work
Some weddings are more casual than others. Yet, most people still at least expect chairs to sit in when they head to a wedding.
That wasn't quite the plan this couple had in mind. These guests would have blankets to sit on the grass. There are a lot of things wrong with this idea and a commenter just pointed out a simple one. The person who posted the question simply wasn't having it, though.
It All Happened So Fast
A wedding is supposed to be a night of happiness. However, it's inevitable that some couples wouldn't have a smooth night.
An argument between the bride and groom at a wedding is awkward to witness. Seeing the bride burn their marriage license within hours of the wedding would stop the entire room. Not to mention, it's not a great sign for the marriage either.
Happy Honeymoon
To start, the dog eating this person's shoes was unfortunate. It's not the dog's fault this happened but it's definitely frustrating. After this, you'd think the mother-in-law would apologize.
Rather, she demanded to stay in their house on their wedding night. What's usually a night for couples to enjoy each other's company quickly became an uncomfortable and unfair mess. We'd feel rather bitter after this interaction, too!
Weddings First, We Guess
There are some things that you read and you just can't believe. The wedding considerations here are so cold we can only hope this isn't real.
The bride in question is worried about her grandmother's heart but not in the way you might think. What really stands out is her concern isn't that her grandmother might be uncomfortable at a long event due to her health. The decision solely comes from the fact that a heart attack would take attention from the wedding.
This Is Awkward
When the officiant of the wedding asks if anyone objects, the crowd is typically silent. If it isn't, some drama is sure to ensue. When the mother of the bride objects, you'd think it'd be in her daughter's favor.
In this case, that ship had definitely sailed. It seems like at this point, they could have at least told the bride privately rather than drag this all out in the middle of the doomed vows.
They Did What?
When it comes to a reception, one of the basic things you'll need is music. This is where a DJ comes in handy for most people.
Of course, you can't guarantee that the DJ's setlist will make everyone happy. It's not uncommon for a guest to have a request the DJ can't comply with. In this case, the best choice is to accept you won't hear a song. Don't bite the DJ!
Counting Down
As your wedding gets closer, it makes sense that you'd start counting down the days. Most people can't wait to marry the love of their life! That's not exactly what this bride was counting down for.
As a matter of fact, they were willing to get downright passive-aggressive about the matter. Wouldn't you be more focused on everyone celebrating your union rather than how much money they've spent on your gift at this point?
Get Ready to Rumble
There are some things you don't expect to see at a wedding. For instance, you probably aren't expecting to see a fistfight among the vows and congratulations.
This person has even that beat. Not only was there a fight, there were four. We're not sure how you even find the time for four separate fistfights during a single wedding and reception. Even the bride got involved in the festivities, so to speak.
"Demoting" Someone
It's an honor to get asked to be in someone's wedding. However, it's not like an ongoing job and the couple can only control so much. This guest didn't even unexpectedly change their hair for the wedding.
The bride asked them to change their hair drastically for the wedding. "Demoting" them doesn't seem like a reasonable response. Like this person, we'd have to wonder if we wanted to go to the wedding at all at this point.
Absolutely Not
When you go to a wedding, it's important to remember you're at a formal event. You can't do things the way you might at home.
We're sure not everyone at this wedding was hoping for a slice of cake in this fashion. It's bad enough that this relative was using their finger to move each slice. It's even worse that she took the time to lick it clean between slices. We'd skip out on cake, too!
Maybe Should Have Discussed This Earlier
There are parts of a wedding that tend to happen. You can skip them but you might want to make sure you and your spouse are on the same page first. Even as a child, this person knew that this wasn't what was supposed to happen.
When prompted to kiss the bride, the groom didn't want to. While they could have skipped this if they discussed it before, it seemed like a decision on the spot. The awkward moment after was definitely noticeable.
Is This Priority?
Wedding dates sometimes change due to factors the couple can't control. This couple was clearly going through a lot when they decided to postpone things. You would think the guests would be more forgiving under these circumstances.
It seems like sympathy was in short supply when they started demanding reimbursements from the couple. Maybe they can help these guests save money but not ask them to attend at all when they get to the new date.
It's All Too Much
One problem at a wedding is enough to stress out the people planning it. Several is enough to make you wonder what exactly is going on. Starting with forgetting the veil is already a large pill to swallow.
The bouquet is understandable but frustrating. The earthquake is unavoidable but still a lot to take on at this point. Losing the staff and the horrible guests really put this day into perspective. It seems this person regretted the whole thing.
The Worst Guests
Someone missing a wedding is sad. Most people only want to have one wedding and it's a big milestone in their life, making it a big one to miss.
Things happen, though. We have to wonder exactly what happened here for everyone to just disappear. Even worse, the guests that did show up only stayed long enough to enjoy some cake and go. It'd be hard not to let this put a damper on things.
How Is This Their Fault?
This photographer was ready to go when a bride-to-be hired them for their engagement photos, engagement parties, bachelorette parties, boudoir shoots, and the wedding itself.
Obviously, this level of work doesn't come cheap. So, the photographer thought it was too good to be true when their client switched photographers. Still, it was their decision and they respected that. There's no reason for the client to come back and blame the photographer for their decision.
A Time for Jokes
A lot of people love a joke. If a couple is a fan of comedy and they love to joke around with one another, we can even see why they'd work some fun into their ceremony.
This bride may have chosen the absolute worst time to make a joke, though. When prompted to say "I do," she opted to crack a joke in the opposite direction. No matter how brief it was, though, it halted the wedding for the day and for the next 10 weeks afterward.
30+ Movies That Are Just Plain Better Than The Books They Were Based On
The Shawshank Redemption
You know you've done something right when you have turned a four-part novella into a Best Picture-nominated flick. Stephen King's original tale is known as Rita Hayworth and the Shawshank Redemption.
But Frank Darabont saw so much potential in this story and was able to give it the epic proportions it deserved. Not to mention the fact that Morgan Freeman and Tim Robbins breathed so much life into the two main characters. It didn't make much money, but Shawshank has aged like a fine wine.
Blade Runner
Blade Runner is one of those movies that seems to have become more beloved the longer it's been around. But casual moviegoers might not realize that the Ridley Scott Sci-Fi flick is adapted from a novel.
Do Androids Dream of Electric Sheep? by Philip K. Dick is the original inspiration for the 1982 movie starring Harrison Ford. Amazingly, the changes Scott made for the movie were not warmly welcomed by Dick. Prior to his passing though, the author admitted that the film was superior to his original work.
The Godfather
It's amazing to think that The Godfather was originally a book. Mario Puzo's 1969 mafia novel was a New York Times Bestseller for a year, introducing outsiders to the fictional Corleone family. But Francis Ford Coppola took the story to a whole new level.
Not only did actors like Marlon Brando and Al Pacino give the characters from the novel so much gravitas, but Coppola managed to trim the fat from the book, making the theatrical release a much tighter experience altogether.
Fifty Shades of Grey
This one is bound to cause the biggest debate out of all of these books that were turned into movies. Fifty Shades of Grey is a polarizing story at the best of times, due to its raunchy subject matter.
But when the movie was released, people flocked to the cinemas to see how these steamy passages would be brought to life. At least in the film though, viewers didn't have to listen to the main character's inner monologue.
The Silence of the Lambs
Any casual moviegoer over the last 30 years is probably familiar with the iconic character that is Hannibal Lecter. What makes The Silence of the Lambs such a terrifying story is that a lot of the brutal violence and sadistic tendencies of the ominous cannibal is simply hinted at, as opposed to being explicitly spoonfed (no pun intended).
According to fans, the original book felt very drawn out in parts and is a tedious reading experience. Obviously, Anthony Hopkins and Jodie Foster elevated the story in a big way.
Mean Girls
Upon first glance, you might assume that Mean Girls was just a run-of-the-mill, original teen comedy. What many don't realize though is that it was adapted from the book Queen Bees & Wannabes: Helping Your Daughter Survive Cliques, Gossip and Other Realities of Adolescence, by Rosalind Wiseman.
Tina Fey wasn't phased by the incredibly long title and wrote her very first screenplay. The movie helped springboard careers for the likes of Rachel McAdams and Lindsey Lohan. The film's definitely more focused than the book though.
Fight Club
Many have debated until this very day whether or not the movie Fight Club is actually better than the novel it was adapted from. Of course, David Fincher's film starring Edward Norton and Brad Pitt has had a huge impact on pop culture.
But those who have experienced both are torn, with something claiming that the book's ending is better than the film's. One telling detail is that Chuck Palahniuk, the author of the 1996 original, absolutely loved the film. Either way, there is a big twist.
Psycho
Those sharp violin chords and the horrific scream from Marion Crane in the show are nothing short of iconic cinema. Alfred Hitchcock was truly the master of suspense and created an absolute gem of a horror movie in Psycho.
And yet, many people don't realize that it was a book that inspired the motion picture about Norman Bates. Interestingly, Robert Block only wrote one line to describe the chilling murder in his 1959 novel. The movie definitely did this better and much more gruesome.
American Psycho
There is no denying that Christian Bale's career entered another dimension when he landed the lead role in 2000's American Psycho. It seems that viewers of the movie found the outrageous scenes a bit more palatable than how they were described in the original novel from 1991.
Some believe that the passages from the novel were way too graphic, forcing them to stop reading. And yet, the humor and wit from the novel were never missing from the movie.
The Princess Bride
It seems like the line uttered by Inigo Montoya is even more iconic than the actual movie The Princess Bride. What's awesome about this example is that the person who wrote the original novel, William Goldman, also wrote the screenplay for the 1987 flick.
Probably the thing that makes the movie better than the novel is the romance between Wesley and Buttercup. One thing that remains in place though is the witty wordplay that was born out of the novel.
Jaws
One key difference between the book Jaws and the movie of the same name, directed by Steven Spielberg, is about the tension surrounding the main characters. In the book, the crew gets to go home every evening and then deal with the shark the next day.
While in the movie, they spend the entire time on the boat. Despite this being made before the advent of CGI, Spielberg achieved the impossible, bringing the text to life through practical effects.
Matilda
Anyone who is familiar with Roald Dahl's work has probably read his classic book, Matilda. This story about a young girl with psychokinetic abilities captured the imaginations of millions of readers around the world. And yet, even more people are probably familiar with the film adaptation, which was directed by Danny Devito, of all people.
Just the colorful quality of the movie was enough for it to trump the book it was inspired by. Many will agree that the film's Matilda, the character, was more likable than the book's Matilda.
No Country for Old Men
When you are talking about a writer as good as Cormac McCarthy, it's difficult to believe that any movie adaptation could be possibly better than his original work. And yet, the Coen brothers saw the dark tones lurking between the lines and breathed new life into this murky Western tale.
Of course, Javier Bardem's chilling performance as Anton Chigurh is a once-in-a-lifetime one. Not to mention that the movie absolutely cleaned up at the Oscars.
Jackie Brown
It might not be his best movie – but Quentin Tarantino's Jackie Brown is still a beautifully crafted homage to Blaxploitation movies from the '70s. Heck, even Pam Grier wanted to honor the genre in which she made her name in the first place.
But still, it took a book to put this story into motion. Elmore Lenard wrote the story Rum Punch. In the book though, the main character is white, while Tarantino made her black and flipped the genre.
One Flew Over the Cuckoo's Nest
Characters like Randall McMurphy and Nurse Ratchett are etched into the minds of millions, for numerous reasons. But for most, it would have to be because of the iconic 1975 movie starring Jack Nicholson. The book, which was written by Ken Kesey 13 years prior to the film's release, was a powerful story.
And yet, the performances in the movie really captured the essence of being institutionalized inside a psychiatric facility. Also, it was only the second movie ever to win the big five Academy Awards.
Arrival
Many who have watched the Sci-Fi movie Arrival and the short story that inspired it, "The Story of Your Life" by Ted Chiang, will agree that they are both great in their own rights.
With that said, there is a big fan base that would claim that Denis Villeneuve's retelling just edges it in terms of quality and simply for visual reasons. After all, this film, starring Amy Adams, did very well at the Academy Awards.
Jurassic Park
If you grew up during the '90s and didn't see Jurassic Park, then what were you doing with your life? This classic adventure flick directed by Steven Spielberg showed the hypothetical reality of a theme park where dinosaurs are essentially brought back to life, with devastating consequences.
While the film doesn't really deviate from the book much, many believe that certain scenes in the film built up much more tension than the passages in the book.
Pitch Perfect
It seems like a truly epic girl power movie only comes around every once in a while, unfortunately. But when Pitch Perfect did arrive on the scene, it didn't disappoint, by any stretch of the imagination.
This movie is based on the non-fiction book Pitch Perfect: The Quest for Collegiate A Cappella Glory. While the book is interesting, for sure, the movie adds the musical element which really takes the story to a whole new level. Also, Anna Kendrick and Rebel Wilson are awesome in it.
The Lord of the Rings
Let's face it – if it wasn't for The Lord of the Rings, you wouldn't have had other incredible fantasy sagas such as Star Wars and Harry Potter. It's just a fact. And you need to owe a lot of thanks to J.R.R. Tolkien's epic books for that.
Then Peter Jackson came along and decided, "you know what, I can make this story even better through the power of cinema." Characters such as Frodo, Gollum, Legolas, and Aragorn became iconic in the world of Hollywood.
Terms of Endearment
Imagine being nominated for supporting actor for playing a character that wasn't even in the book that inspired the movie! That's exactly what Jack Nicholson did when he starred alongside Shirley MacLaine in 1983's Terms of Endearment. A big book, Terms of Endearment by Larry McMurtry is charming, to say the very least.
But James L. Brooks came running out the gate with his directorial debut. A story revolving around cancer can get cheesy very quickly, but this movie managed to stay grounded.
Stand By Me
When you think of Stephen King, you'll probably think of his horror classics like The Shining and It. But the legendary author is also famous for his poignant tales about coming of age and friendship. Take his novella "The Body," for example.
This story ended up being adapted by Rob Reiner into the classic '80s movie Stand By Me. While "The Body" is fine, for what it's worth, Stand By Me is a must-see, with great performances from Corey Feldman, Will Wheaton, and the late River Phoenix.
The Devil Wears Prada
Who could ever forget Meryl Streep's incredible performance in the classic The Devil's Wear Prada? This in itself is enough of a reason as to why the 2006 film is better than the book that preceded it three years prior.
Sure, all the classic components are in place in the novel. However, Aline Brosh McKenna made the movie's plot so much tighter. Not to mention a great early Emily Blunt performance. There's no point in arguing about this one.
LA Confidential
It's difficult to compete with a movie about 1950s LA crime starring the likes of Kevin Spacey, Kim Basinger, Russell Crowe, and Guy Pearce. LA Confidential had it all, but it's amazing to think that this 1997 thriller was adapted from a novel.
Amazingly, the book's author, James Ellroy, proved to be one of the biggest fans of the movie. According to him, Curtis Hanson (the director) did an amazing job of "maintaining the overall dramatic thrust."
Bridget Jones's Diary
Don't be confused – Bridget Jones's Diary wasn't an actual diary. It was a fictional novel by Helen Fielding back, written back in 1999 in the form of diary entries. What is genius about the movie though is that you don't really feel the diary entry format as much, and the drama and comedy are given room to breathe.
Due to Renee Zellweger's great performance as Bridget, sequels to the originals also followed. Also, Colin Firth's Mark was much more interesting than the book version.
Brokeback Mountain
Annie Proulx's Brokeback Mountain certainly won a lot of awards upon its release. Her short story about two cowboys who became romantically involved was well received by many. However, there is no denying that Ang Lee's 2005 retelling of the story gave the story a fantastic visualization.
He even won Best Director for it at the Academy Awards. But it was Jake Gyllenhaal and the late Heath Ledger's performances that ended the argument that this movie is superior to the book.
Forrest Gump
There will never be another fictional character quite like Forrest Gump. In 1986, Winston Groom painted Gump as a big guy with a small mind who embarked on a truly epic life through 20th century America. In the film, Tom Hanks plays a smaller, more timid Gump, but undoubtedly a much more memorable version.
Robert Zemeckis's Best Picture-winning film had it all – a great soundtrack, wonderful performances, and authenticity that harked back to some of the best and worst years of American history.
Jojo Rabbit
When you are dealing with subject matter as tragic as the Holocaust, it's virtually impossible to make light of it. And yet, Taika Waititi managed to pull a rabbit out of the hat with his adaptation of the story Caging Skies – Jojo Rabbit, specifically!
While the original book is very bleak and doesn't really give the reader much to chew on in terms of levity, the film Jojo Rabbit is funny and charming in large parts, and somehow works. It was even Academy-Award nominated.
All About Eve
Many don't know that Hollywood classic All About Eve was actually based on Mary Orr's short story "The Wisdom of Eve," which first showed up in Cosmopolitan back in 1946.
While this little piece of fiction was OK at the time, the film adaptation catapulted the story into the public consciousness, and also won Best Picture at the Academy Awards. Joseph L. Mankiewicz created an unforgettable film, starring the likes of Bettie Davis and Anne Baxter.
Children of Men
The premise of PD James's The Children of Men is enough to leave one thinking all night long. Imagine a world where all women have become infertile and no baby has been born in decades.
What made the 2006 movie amazing though is that it amplified the dystopian qualities of the novel, creating a true sense of dread and jeopardy. Alfonso Cuaron gave the film stunning visuals and brought out a great lead performance in Clive Owen. James even claimed to be "so proud to be associated" with the film.
The Notebook
There is no denying that Nicholas Sparks has a knack for tragic love stories. His millions of sold copies of The Notebook are enough proof of that. But many would agree that the 2004 film adaptation starring Ryan Gosling and Rachel McAdams is even better than the novel.
All the topics of family drama, war, and love are brought to the forefront in Nick Cassavetes' classic. Many thought that Rachel McAdams made the film version of the character much better.