Lisa Kudrow
The actress Lisa Kudrow was the first of the main cast of Friends to become pregnant. In preparing for the fourth season, the producers decided to show the pregnancy and incorporate it into the show. Phoebe Buffet had a fantastic tale to accompany it, of course.
Phoebe didn't plan on carrying triplets on behalf of her half-brother; she had a real baby bump. As a result, it became one of the season's most beloved storylines. Lisa remembers everyone telling her on the set: "Have a good show, love you, love you, tiny Julian!"
Gal Gadot
Gal Gadot was five months pregnant while filming Wonder Woman. Yet, she somehow still managed to do a lot of her own stunts and make the action-packed scenes look believable. A lot of that was thanks to the help of CGI. Gal wore a green fabric around her stomach while filming so that her pregnancy belly could be edited out in post-production.
The actress joked, "On close-up, I looked very much like Wonder Woman. On wide shots, I looked very funny, like Wonder Woman pregnant with Kermit the Frog."
Blake Lively
Filming was underway for Blake Lively's shark attack film The Shallows, released in 2016, at the same time that she was expecting the birth of her daughter, Inez. Filming while pregnant wasn't easy, with most of the shooting requiring risky stunts.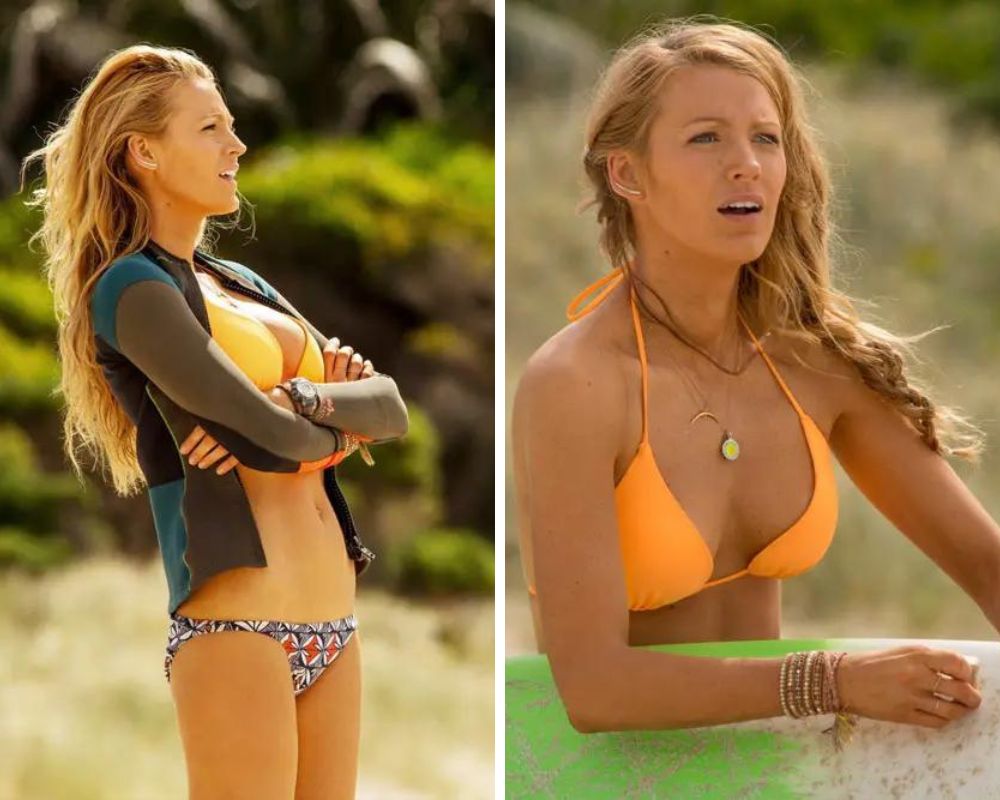 Blake said, "A stunt double didn't get hired until the last few weeks of filming." She added, "The filming was extremely stunt-heavy." Her baby bump was barely visible, even in swimwear. Some scenes featured a strategically-placed surfboard used to conceal her stomach.
Cynthia Nixon
During season four of Sex and the City, actress Cynthia Nixon was pregnant. She was lucky because the show incorporated her pregnancy into the story, resulting in baby Brady for her and Steve.
The actress was pregnant both on-screen and off-screen, playing Miranda Hobbes, who was trying for a baby with husband-to-be Steve. As an ironic coincidence, Sarah Jessica Parker also became pregnant during the same season.
Chandra Wilson
Chandra Wilson was pregnant during the shoot for Grey's Anatomy, and the producers went with something a little different this time. Season two had just begun, so they wrote Chandra's pregnancy into it. Fans loved the famous birth scene, so it was a great idea.
The hilarious birthing scene featuring George and Bailey has remained a fan favorite for many years. Additionally, it stood out from other pregnancies in the show as it was the only one in which the actress was pregnant in real life. These two and their birthing experience became a feature in the show and remained a highlight for a long time.
Melanie Scrofano
The producers included Melanie Scrofano's pregnancy throughout season two of Wynonna Earp. It wasn't until the fifth episode that it was revealed she was pregnant. Fans were quite stunned by the news. The best part is yet to come, though…
The show ran while Melanie was heavily pregnant, and she performed many stunts herself. Is that even legal? Melanie later explained, "It's awful being forced to hide anything when you're so conscious of it all… I feel like it would have harmed [the show]."
Vanessa Morgan
When Vanessa Morgan was pregnant with her baby, season five of Riverdale was already in the works. According to her Instagram post, she spoke kind words on the show's handling of her pregnancy: "Want to thank the showrunner and producers for their understanding & including my pregnancy in the show!"
In addition, Vanessa said she was "thankful that my body allowed me to work almost nine months pregnant." The news surprised her fans, and they were curious about how the show would be affected. It was a simple question about how the plot would change from its original idea.
Melissa Fumero
As an actress on Brooklyn Nine-Nine, Melissa Fumero had to film while pregnant, playing the leading female role, Detective Amy Santiago. However, it wasn't easy. "The swelling in my ankles was intense," recalled Melissa.
After wrapping up, Melissa said, "We had our baby five days later. My recommendation is to avoid it." Fortunately, the writers incorporated her pregnancy into the show. Her huge belly certainly wasn't hidden!
Teri Hatcher
Actress Teri Hatcher struggled on the set of Tomorrow Never Dies. Despite just becoming pregnant, Teri was experiencing pregnancy side effects. Pierce Brosnan was less than sympathetic, stating, "She annoyed me. She kept me waiting for hours."
He said, "I have to admit that I slipped a few words that weren't very nice." Teri didn't let this slide; the day they filmed opposite each other, her on-screen slapping of Bond had a little more oomph. Those were probably some pretty tense moments.
Chyler Leigh
During the filming of Grey's Anatomy, Chyler Leigh was pregnant. The actress played Lexie Grey, and the writers decided they didn't want to include her pregnancy in the story. Fortunately, they could cover her belly with wide-fitting hospital scrubs, but sometimes more was needed.
Consequently, they quickly threw a jacket over Chyler or had her hold objects or stand behind them. However, the actress also gained a healthy amount of weight during pregnancy, an event that the show attributed to "stress eating."
Naomi Watts
When Naomi Watts was filming for the thriller Eastern Promises, she was at the beginning of her pregnancy. She managed to hide it from the cast. However, she couldn't hide it from everyone, despite her efforts.
Due to the fatigue that comes with being pregnant, she began noticing changes in her body. It turns out that the director's sister designed the costumes for the movie, so she was the first to know. "She was the first to know since she designed the costumes," said Naomi.
Kristen Bell
In House of Lies, Kristen Bell's pregnancy wouldn't affect her character in any way; she was sure of that. To fool the audience, the director had to figure out what they would do to avoid the pregnancy being noticed.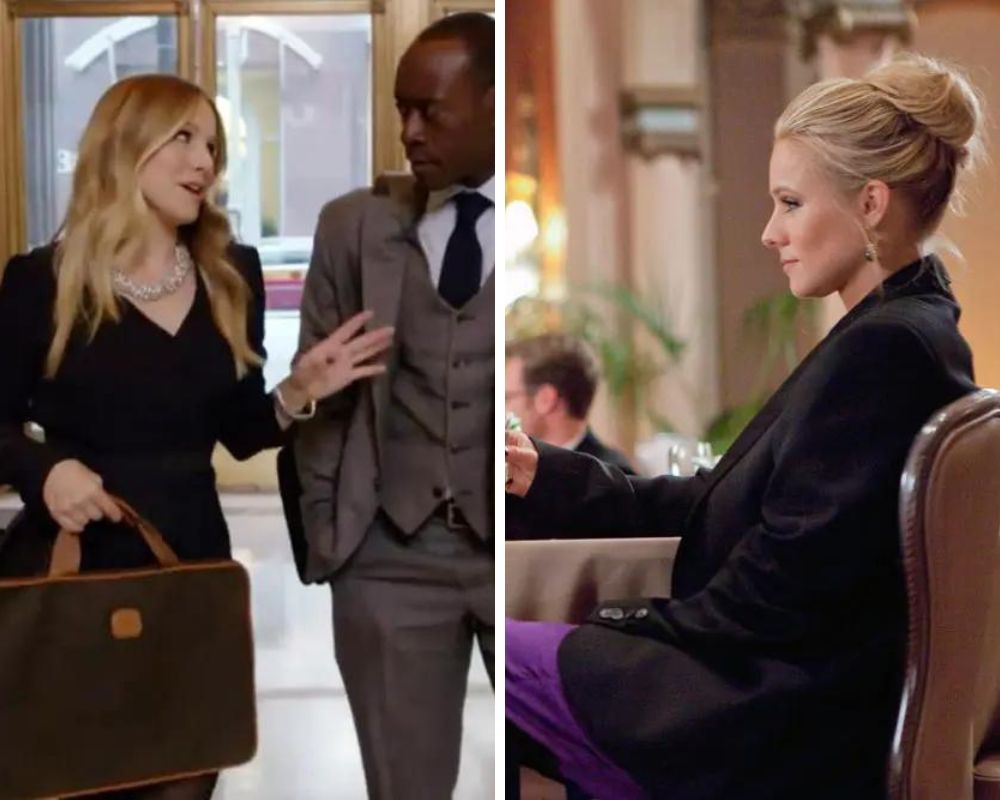 It wasn't solely up to costume and props, as Kristen was seven months pregnant then! Although she wore baggier clothing, they still removed the bump digitally with the help of CGI.
Alyssa Milano
In the second season of Mistresses, actress Alyssa Milano filmed while pregnant. She was pregnant with her second child. Explaining what acting was like, she said, "Keeping pregnancy a secret is like a Saturday Night Live skit."
She continued, "I keep getting bigger purses and bigger purses." The actress spent a lot of time hiding from the camera before throwing in the towel due to the change of filming locations. "I cannot abandon my children and split the family by moving away."
Ivana Milicevic
In the fifth season of The 100, actress Ivana Milicevic was pregnant, ironically right as her character Charmaine Diyoza was meant to die. As a result, the show decided to utilize the pregnancy and write it into the script, allowing her character to live longer.
Throughout the show's final season, her character remained alive. Ivana said, "Being a mother for three years allowed me to work on a great show." Pregnancy doesn't usually lead to increased earnings, but it did for her!
Charisma Carpenter
As a pregnant actress, Charisma Carpenter starred in Angel, a spinoff series of Buffy the Vampire Slayer. The show was in its fourth season, and they did everything in their power to conceal her pregnancy – until they couldn't anymore.
Jasmine, the Blessed Devourer, was born to Cordelia, Charisma's character. The actress then took to Twitter in early 2021, stating that director Joss Whedon had mistreated her due to her pregnancy, which led to her being dropped from the show. "It was hard to accept, but family comes first."
Chelsea Peretti
Chelsea Peretti and her husband, Jordan Peele, announced they were having a baby during season four of the show. Brooklyn Nine-Nine could've hidden the pregnancy but chose not to. In the end, the pregnancy was added to the show and added a new element of mystery. Chelsea stated, "It was a relief not to worry about hiding the bump."
Which man fathered Gina's child? Ultimately, it was revealed that Milton, Ryan Phillippe's character, was involved with Gina and fathered her unborn baby. Despite all of this, Chelsea's baby bump was somewhat concealed by loose comfy clothes on the show.
Amanda Righetti
When Amanda Righetti became pregnant, season five of The Mentalist was in production. However, since the writers weren't keen on including it in the show, Grace is often seen standing behind something or sitting down with her hands in front of her stomach.
Those watching the show agreed it was obvious. A bag, a box, and even awkwardly positioned water coolers covered Amanda's belly. Everyone watching could see how her body was changing. We're sure Amanda released a big sigh of relief when it was finally over.
Candice King
When Candice King announced she was expecting a child with her husband, Joe, The Vampire Diaries fans wondered how that would affect her character. The writers embraced it and included it on the show, which was a big surprise.
As the episodes continue in season seven, it becomes more and more evident that her baby bump is growing. According to her character, she became pregnant after having an affair with Alaric and was discovered to be pregnant with twins.
Anna Paquin
During season six of True Blood, Anna Paquin's belly had a large bump. This wasn't what the show wanted for her character, so a stunt double filled in when she was required to display her body. She told Todd Lowe at the time, "the double worked harder than needed."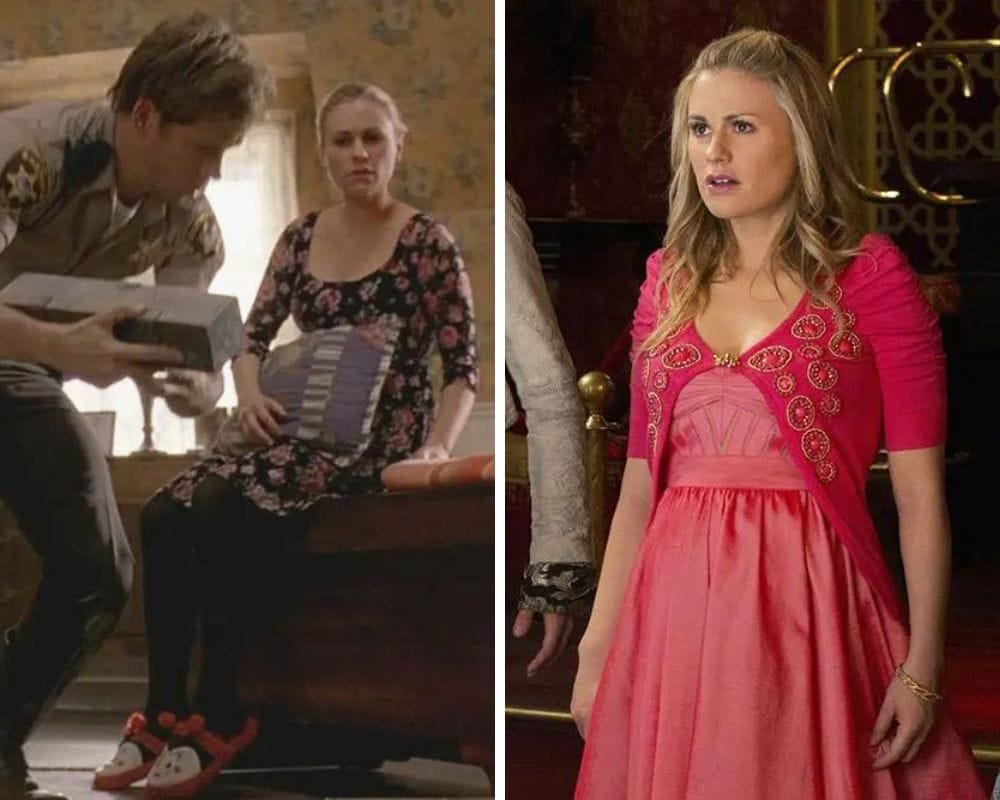 He said, "Yes, I am aware of that, and they are quite innovative with their staging and costuming." It was a season six spoiler, and the audience was shocked. Nevertheless, True Blood wasn't afraid to use a well-placed cushion, either; it would've been nice if they didn't make it so obvious.
Nana Visitor
It turns out Nana Visitor was pregnant while filming Star Trek: Deep Space Nine. Apparently, the writers didn't want her character, Kira Nerys, to have a baby in the show.
They explained that Kira's lack of a child after giving birth resulted from surrogacy. The pregnancy could be incorporated into the storyline and displayed visually without involving a child actor. Nana said, "I was scared I'd lose the job on the show for being pregnant."
Kaitlin Olson
In season six of It's Always Sunny in Philadelphia, actress Kaitlin Olson was pregnant for many episodes. Dee, her character, became pregnant too, so they decided to make several episodes about her pregnancy.
Kaitlin might've had an easier time working the show around her pregnancy than we initially thought. Her husband is the show's co-creator and executive producer, Rob McElhenney.
Betsy Brandt
During season two of Breaking Bad, actress Betsy Brandt was pregnant. This wasn't the case for her character, so she had to conceal it. It was funny to find out that Skylar White, the character played by Anna Gunn, was expecting a baby. Funny enough, Anna was required to wear a dummy baby belly.
The studio used numerous tricks to make Betsy's baby belly appear inconspicuous when she was on screen. They wanted to hide her belly no matter what, even if it meant staying behind countertops. The director got an interesting close-up when he needed Skylar's belly, which was Betsy's real one.
Jennifer Garner
Jennifer Garner found out she was pregnant while filming the fifth season of Alias, making it impossible to continue her action-packed role. Luckily, the show was more than happy to accommodate their star and they wrote Jennifer's pregnancy into her character, Sydney Bristow's, storyline.
Moreover, they gave her a proper maternity leave, which is pretty rare in Hollywood. When Alias returned after the hiatus, Garner was ready to perform crazy stunts again!
Angela Kinsey
During the shoot for season four of The Office, Angela Kinsey was pregnant with her first child. The show attempted to hide it, but one's chances of not knowing about the pregnancy are slim. Their methods of concealing her baby bump were borderline ridiculous.
She was always standing behind something silly, like a big swan ice sculpture that fans will remember well. When watching this part, many fans realized, " Wow, she's pregnant." Not because you could see the bump but because the attempt to hide her stomach was obvious.
Caterina Scorsone
During the year 2012, actress Caterina Scorsone found out she was pregnant. At the same time, she was filming ABC's Private Practice. The show's creator Shonda Rhimes, incorporated Amelia Shepherd's pregnancy into the story, preventing Caterina from needing to hide her belly.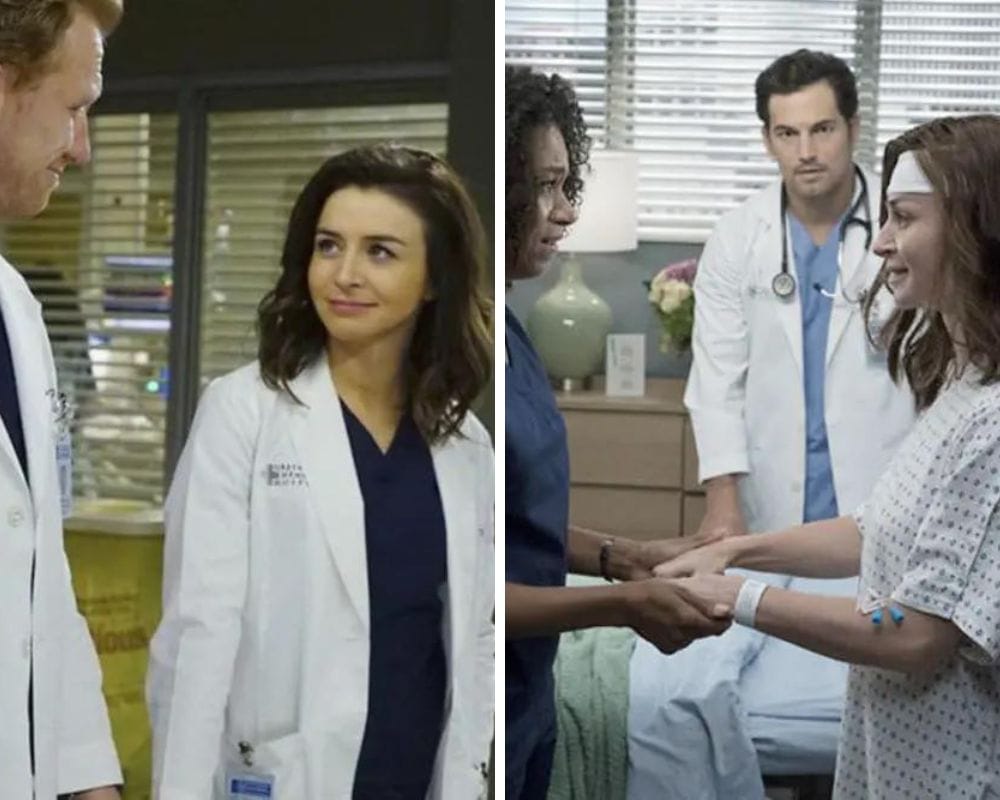 The child Caterina gave birth to in July 2012 was healthy and happy! But her character didn't fare as well… According to the story, she gave birth to a boy, but he was born ill and didn't survive.
Rachel Griffiths
Several episodes of Six Feet Under season three are missing Rachel Griffiths due to her pregnancy being too apparent on screen. She was expecting her first child but wasn't showing too much at the beginning, which would become a problem of consistency in the other episodes. The studio covered her stomach, so it wasn't noticeable.
Later in the season, she became pregnant again, which was written into her character arc. After a while, she got pregnant for the third time! However, the writers decided not to include another pregnancy in the last season.
Jill Scott
It's not just acting that Jill Scott does. The actress and singer also worked as a model and poet while filming No. 1 Ladies Detective Agency. In any case, it's very difficult to tell she's pregnant on the show since she wore loose-fitting clothes.
We were also distracted from her burgeoning bump by the clothes' patterns. We can't believe we didn't know she was expecting during season one! In April 2009, she gave birth to her son Jett and ended her relationship with his father two months later.
Phylicia Rashad
As Clair Huxtable, Phylicia Rashad played an important role during the '80s on The Cosby Show. However, it's worth noting that she was pregnant for most of the third season. She did say, "At times, it was hard." However, she got through it.
The sitcom's script avoided mentioning the actress's pregnancy. Despite this, they didn't conceal it well. She always covered her stomach suspiciously, typically with magazines and sofa cushions.
Parminder Magra
In the 15th season of ER, actress Parminder Magra discovered she was pregnant while filming. There were some pretty inventive ways the studio concealed her growing bump in 2008. That's just a joke; they used the usual, unimpressive "tricks."
In season 15, Parminder wears scrubs that are looser, with a large lab coat, and conveniently stands behind counters and tables. However, it was successful in the end.
Leah Remini
Leah Remini was pregnant while filming The King of Queens, season six. As luck would have it, her character was experiencing unemployment at the time. Thus, she could wear sweatpants and dress robes most of the time. Leah wears a fluffy, large bathrobe in several scenes. There were all kinds of colors in her collection as well!
A pink dress, a blue dress, a white dress – it didn't matter! Whenever she wore clothes, the designers made sure to hide her bump. We have no doubt those are the clothes she wore at home anyway.
Katey Sagal
While filming Married With Children, actress Katey Sagal discovered she was pregnant, and her announcement was completely unexpected. This pregnancy was written into the show, with more to follow. While portraying Peggy Bundy, Katey had three separate pregnancies. We're sure that's some sort of record!
Unfortunately, the baby didn't survive, and her character's storyline had to be rewritten. They decided to write that Peggy's entire pregnancy was just a dream. Thankfully, her subsequent pregnancies resulted in two beautiful and healthy children.
Rosamund Pike
Known for her role as Amy Dunne, Rosamund Pike plays the villainous character in Gone Girl. However, before that happened, she appeared in the 2012 film Jack Reacher. A lot of action scenes went into the movie, and the filming occurred while Rosamund was pregnant.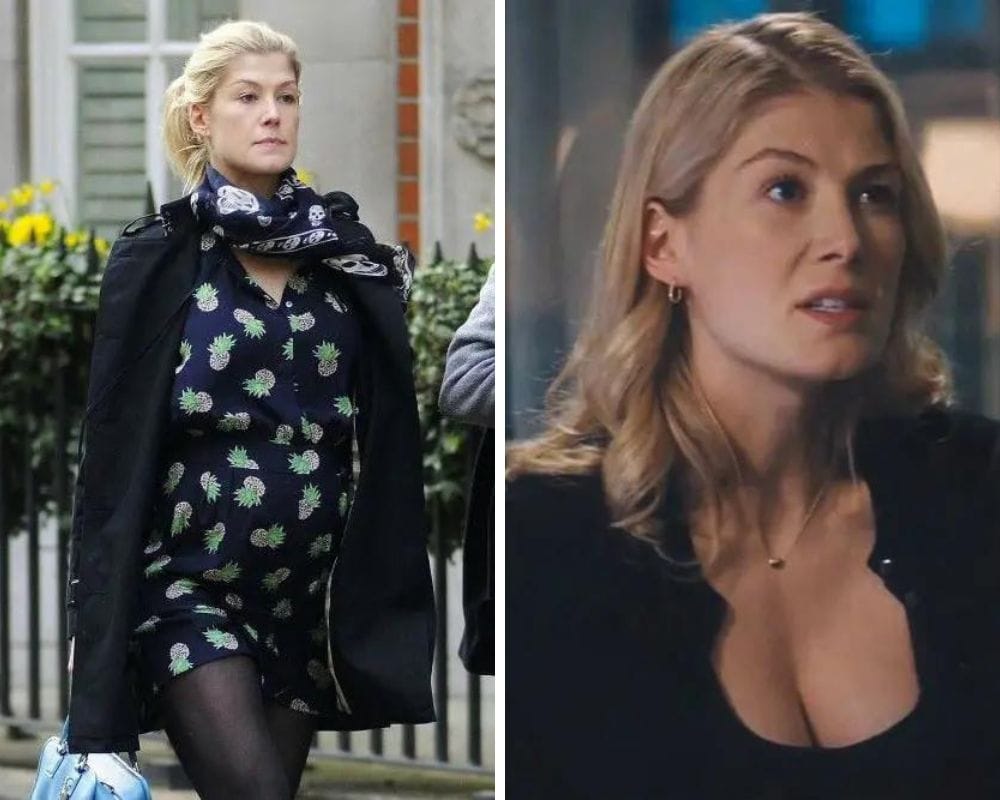 "It's amazing how chilled the baby came out. The world probably sounded truly terrifying to him," Rosamund revealed. Five months into the pregnancy, Mr. Cruise appears to have been a gentleman to his colleague. "I couldn't have asked for more support from him. There have been a few stars who have said, 'Get another. She's pregnant!'"
America Ferrera
Superstore's lead actress America Ferrera became pregnant in 2018, and NBC couldn't just send her away for a season. During season three, they brought her pregnancy into the storyline.
They must've thought it wasn't worth the fight trying to hide her pregnancy bump. The fact that America was an executive producer on the show may have contributed to this.
Melissa Rauch
Having Melissa Rauch absent from The Big Bang Theory would've been a huge loss. That's why we're thankful the show wrote her pregnancy in. Howard and Bernadette were expecting their first child together.
Tragically, as the actress was filming the show, she suffered a miscarriage. Luckily, she got pregnant again shortly after and had a beautiful and healthy baby!
Megan Boone
Six months into her pregnancy, actress Megan Boone continued to shoot NBC's The Blacklist. Fortunately, her character was also pregnant, so she didn't need to hide behind anything.
There was a stunt double hired for Megan when the scenes were too intense. Being so close to giving birth, it was a good idea to do so. Eventually, they removed her character from the show to accommodate Megan's maternity leave.
Cobie Smulders
The show poked fun at the fact that they were trying to hide actress Cobie Smulders's pregnancy in How I Met Your Mother. Upon sitting down, she either had her purse on her lap or hid her belly behind an overhanging lampshade.
They also put her in baggy and chunky clothes to conceal Cobie's growing baby bump. There was also a time when they hid her behind a fruit bowl. As for other major plot lines involving Cobie's character, filming was delayed until later in the season. Apparently, she ran out of things to hide behind.
Michelle Pfeiffer
When Michelle Pfeiffer was filming Dangerous Minds in 1995, she had a tiny frame. While filming, she was carrying her baby boy John Henry. Even when she wore loose-fitting clothes, it was obvious that she was pregnant.
She relied on more than just her wardrobe to conceal her belly. The costume department got a break by using specific camera angles and close-ups. The final result was pretty good, despite her having the most screen time; she was the lead actress after all!
Ginnifer Goodwin
Actress Ginnifer Goodwin had a spot of good luck when filming a few scenes for Once Upon a Time. She was pregnant with her co-star/husband Josh Dallas's baby at the same time that her character was pregnant too! The couple had met on set, so the whole thing was a pretty full-circle moment.
Most of her scenes didn't require concealing her bump. However, her bump had to be hidden when they showed flashbacks. And for that, they relied on big, billowy clothing that did a questionable job. Still, we got the point.
Alanna Masterson
Actress Alanna Masterson had commitments to keep when she found out she was pregnant in 2015. She was a recurring character portraying Tara Chambler on The Walking Dead, and the writers refused to include her pregnancy in the story.
Even though her pregnancy wasn't written into her character's story, this doesn't mean they had a clever way of concealing her pregnancy. The show used a variety of props; Alanna would sometimes sit backward on a bar stool, and a dish rack would sometimes hide her.
Gillian Anderson
During the second season of The X-Files, actress Gillian Anderson was given the strangest storyline to explain her baby bump. FBI agent, Scully, was kidnapped and abducted by aliens, where she was allegedly experimented on, and that's what resulted in her character's on-screen pregnancy.
It's unique; we'll give the show that. But it's also slightly creepy, if not disturbing. Gillian was terrified of telling the producers she was expecting and for a good reason! They considered recasting her character before choosing to stand by the actress.
Alyson Hannigan
During the production of season four of How I Met Your Mother, actress Alyson Hannigan was heavily pregnant. They didn't want that story for her character, so they used cheap methods to hide the baby bump.
Besides hiding her behind instruments, basketballs, big bags, globes, and even a cooler, one scene allowed the audience to see Alyson's stomach. As Alyson won an eating contest, the show pretended she was full! Not many viewers fell for that one. What a silly idea!
Jessica Capshaw
Actress Jessica Capshaw had to carry on acting during the seventh season of Grey's Anatomy even though she was carrying a child. It's particularly funny, considering how her character Arizona was staunchly against having children herself. Thus, there wasn't any way they could write Jessica's pregnancy into the show.
The writers decided to send Arizona off to Africa for a little trip. She still had scenes to film before she left, though, and for that, the writers deferred to the costume and prop department. You guessed it: Jessica was wearing loose, flowing clothes and suspiciously holding big boxes.
Keri Russell
Actress Keri Russell became pregnant in 2016 while filming season four of The Americans. She was dating her co-star Matthew Rhys, but the writers still didn't want to write the pregnancy into the show. In the end, they used the usual tricks of the trade to conceal her baby bump.
Her partner Matthew later explained in an interview that he and Keri approached the writers about their big news. "They went, 'You know what, we're going to stick with what we wrote, and I'm sorry to say, you'll be wearing big coats and sitting holding laundry.'" And that's exactly what Keri did on the show.
Morena Baccarin
Actress Morena Baccarin wasn't worried when she became pregnant while filming Homeland's season two. They could've brought in a plot twist that'd given her less screen time. However, her character became a focal point of the season instead.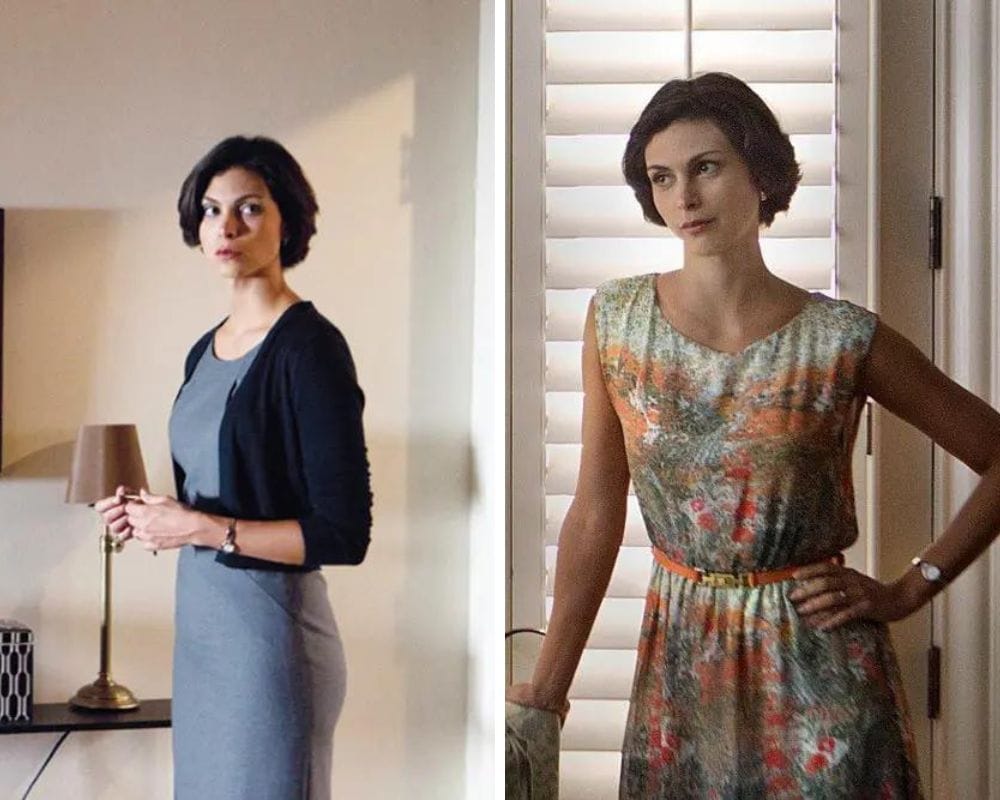 Luckily, she wasn't showing too much at the time. However, during those moments when it was more obvious that there was a baby on the way, the post-production team came in extra handy. They got rid of her burgeoning bump in the scenes where you see her whole body.
Mandy Moore
Actress Mandy Moore was pregnant while filming This Is Us, which could've easily posed quite a challenge. Mandy needed to portray the younger and far older versions of Rebecca Pearson, so there was no way she could be seen with a baby bump. She was playing a grandmother after all!
Before the season's release, Mandy admitted, "Rebecca will probably carry oversized bags and laundry baskets during the next few months." She was right, essentially. The costume department also gave her loads of layering fabrics and loose-fitting clothes to hide the baby bump.
Zooey Deschanel
In the fifth season of New Girl, actress Zooey Deschanel revealed that she was pregnant during filming, which was not a secret for long. It was decided that Jess would have to sit behind a wooden half-wall in a new plotline. It was jury duty for Jess, and that was it. Additionally, the show makers unveiled another trick.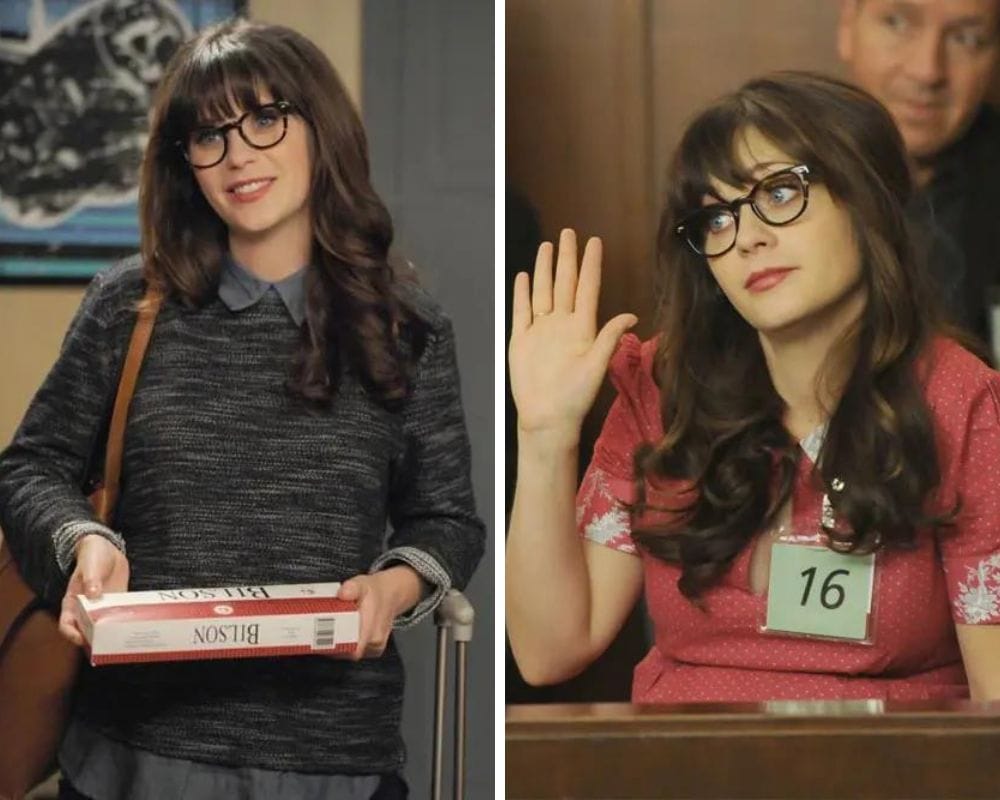 The actress Megan Fox was a replacement for Jess during her jury duty to distract viewers from Zooey's maternity leave. However, Zooey rejoined the show within a few weeks of giving birth.
We Never Knew These 30+ Darker Secrets About Our Favorite Cartoons From the '90s
Concerns for the Aladdin Cast
If you were in a movie as successful as Aladdin, you would think that it would be an exciting thing. For the two stars, it was actually nerve-wracking.
Scott Weinger, Aladdin's voice actor, said that he and Jasmine's voice actor (Linda Larkin) feared they would watch the movie and see themselves replaced. This was because neither could sing and had to leave the singing part for other performers after a few changes to the script were made.
The End of The Angry Beavers
If you watched the show The Angry Beavers, you might have noticed something unusual. The show's final episode never aired.
Titled "Bye Bye Beavers," the finale was going to flip the script as the main characters realize they're in a cartoon. Even worse, they were meant to realize they were being canceled. The plotline of the two beavers facing an existential crisis was initially approved but ultimately terminated by the executives at Nicktoons.
What Inspired Skeletor?
Skeletor had already been around for a bit when the '90s rolled into town. Still, the character remained successful in its new iteration.
So, what brought us the famous character? As a kid, creator Mark Taylor saw a skeleton at a carnival that looked a little too real. He shared the story behind it: "I knew that was a real person. Over 60 years later, I'm watching the Discovery Channel, it turns out he was a real guy and he was really at the Long Beach Pike!" A bit creepy isn't it?
Beavis, Butt-Head, and Arson
Beavis and Butt-Head was always a cartoon cited as a bad influence. In one particular case, it seems like they might have actually been so!
In 1993, a 5-year-old boy started a housefire in his own home. Sadly, this event claimed the life of his younger sister. According to the mother, it was due to the show's influence, so MTV moved it to a later slot at 10:30 p.m. so kids wouldn't watch. They also banned the word "fire" until 2011.
Pokémon's Big Mistake
This one is a fairly open dark secret. After all, only a few people probably haven't heard of the episode "The Electric Soldier Porygon" by now. In one part of the show, the animator relied on a strobe effect.
This included lights that flashed more than 100 times for five seconds. The only thing they seemed to forget was that these flashing lights were dangerous and triggered seizures before the scene was quickly pulled and edited.
A Darker Toy Story
While the sequels definitely have their dark moments, the original Toy Story was meant to feature a much darker character.
In an earlier draft of the script, Woody was not a fun and easy-going toy but rather a mean dummy. He was even going to throw Buzz out of a window! All in all, we're happy that Pixar took creative control and gave us a story that's was less terrifying.
Nothing Twice
John Kricfalusi was the creator of The Ren & Stimpy Show, and he was especially involved during the first two seasons. However, his reputation isn't quite pristine.
One of the complaints against him is that he was too strict to work for as an animator. During his time on The Ren & Stimpy Show, he was known for his strict style including rules such as not allowing the animators to draw the same face twice. All in all, he wasn't considered the easiest boss to work for.
No Sleep for Jean Grey
During the original run of X-Men: The Animated Series, the voice actors were sometimes under more strain than you might expect. Catherine Disher even regularly recorded her line as Jean Grey after not getting enough sleep.
At the time she was working on X-Men, she also participated in the shooting of a vampire series, which was shot during the night. The problem was that X-Men was recorded on Friday mornings, so she would just work all night and show up without going to bed. Who knew that so much dedication and personal sacrifice went into bringing your favorite X-Men characters to life for Saturday morning cartoons?
The Tragedy of Caillou
Caillou is definitely a cartoon that targeted a younger audience. So, it makes sense that if you have ever watched it, you probably didn't wonder what went on behind the scenes. There's a tragedy behind Caillou, though.
The character was originally played by an actress named Jaclyn Linetsky. Sadly, in 2003, she passed away after a fatal car accident together with her co-star, Vadim Schneider. The show continued shortly after, with a different voice actor taking her role.
The Little Mermaid's Writer
Just because something is dark doesn't necessarily have to mean that it's sad. After all, what's darker than linking your favorite '90s Disney movie to something much spookier?
After The Black Cauldron performed poorly at the box office, Disney was looking for a fresh face. For this purpose, they brought on Howard Ashman to write the music for The Little Mermaid and later Aladdin and Beauty and the Beast. If that name sounds familiar, it's because he composed the music for Little Shop of Horrors!
Changing Up Scarecrow
In Batman: The Animated Series, the creators had a lot of fun with the Rogues Gallery that the Caped Crusader had been fighting for years. This included the terrifying Scarecrow.
While this villain was still scary, he didn't have many lines throughout the first season. That's because Henry Polic II, Scarecrow's voice actor, was dealing with health issues in his throat and even had to have surgery to fix them. So, they gave the character very few lines until Polic recovered.
The Plot of Pocahontas
You probably expect Disney to change some things around to make their content family-friendly. However, some of the real stories behind the movies are tragic, to say the least.
One of the best examples of this is the movie Pocahontas. From the Powhatan Renape Nation, Chief Roy Crazy Horse was quoted saying that the movie "distorts history beyond recognition" and in doing so "perpetuates a dishonest and self-serving myth at the expense of the Powhatan Nation."
Trouble in Dexter's Lab
Dexter's Lab got in trouble more than once during its run time for inappropriate or even for content that was deemed outright offensive.
When the episode "Dial M for Monkey: Barbequor" was banned, rumors were quick to blame it on the character of the Silver Spooner. Fans thought it was the fact that the character read as a queer stereotype. Yet, it was later clarified that Marvel actually threatened to take legal action for bearing resemblance to the Silver Surfer.
John Candy and Pocahontas
Another dark secret behind Pocahontas has to do with one of the actors who couldn't make it. John Candy was meant to play a turkey named Redfeather. Sadly, the actor passed away before the idea could come to fruition.
As a result, his character was removed and Disney even eventually decided not to voice any of the animal characters. As for Candy's turkey, the character was replaced with Meeko the raccoon.
No Faith in Rugrats
It's hard to think of two '90s cartoons that were more controversial than Rugrats and The Simpsons. Ultimately, both proved a success. Still, that doesn't mean that everyone believed in both of them.
When Rugrats rolled around, artists from The Simpsons weren't terribly supportive. They gave it the not-so-flattering nickname of "That Baby Show." It seems like it was unwarranted, given how successful we know the show was now.
Where Are Ed, Edd n Eddy?
For other shows, it's pretty hard to find dark secrets — sometimes because there simply aren't any. In the case of Ed, Edd n Eddy, there's some room for dark fan theories.
While it isn't a fact about the show, it's worth considering the theories that some fans run with. In one persistently dark theory about Ed, Edd n Eddy, fans have wondered if the titular characters are actually in purgatory to explain the fact that they never go to school.
Fading Out Reptar
In the '90s, kids watching Rugrats could easily recognize Tommy's beloved toy, Reptar. However, apparently, Reptar brought the show under fire. The character was fine until he started to appear outside of the show and in Rugrats merchandise.
By 2002, the makers of Rugrats, Klasky-Csupo, were facing a lawsuit from the owners of Godzilla, Toho, that Reptar was eerily similar to. While the outcome wasn't public, the beloved '90s character started to appear less and less.
One More Take
This fact isn't dark as it is moving, not to mention that it says a lot about Michael Bell's performance as Chuckie's dad, Chas, in Rugrats.
Fans probably remember the moment in which Chas gives a particularly emotional speech about Chuckie's mom, who isn't alive for in the show. They actually had to run the monologue twice after the first take was ruined by everyone in the studio crying through it.
Notice Anything?
There are a lot of funny things that you don't pay a lot of attention to as a kid. As adults, though, you start to notice some of these finer details.
One that seems impossible to miss by now is the truth behind The Krusty Krab in Spongebob Squarepants. If you paid attention to the design of the building, you'll notice something disconcerting. The restaurant looks eerily like a lobster trap.
Arguing Over Assignments
As we've seen, not every successful cartoon is clearly successful from the start. Sometimes, animators just don't think things are going to work out.
Two Disney movies that were in production in the '90s were The Lion King and Pocahontas. This led to some arguments behind the scenes over who got to work on which project. Believe it or not, Pocahontas was the one that everyone was vying for because it was expected to perform better.
Sorry Doug and Patti
Over the course of our favorite cartoons, we got to see a lot of relationships form among the characters. You might even wonder if those relationships would last beyond the series.
Well, there's some sad news for fans of the cartoon Doug. According to creator Jim Jenkins, fans shouldn't think that Patti and Doug remained together after the show ended. He said that "people just don't end up with their first love."
Getting Scientific with Road Runner
There's a lot about cartoons that make us suspend our disbelief. During its run in the '90s, Looney Tunes had been asking that of fans a lot.
One thing that you might not expect is that even the concept of a coyote going after a roadrunner isn't as realistic as you might think. Not only roadrunners are not quite as fast as their Looney Tunes counterpart had us believe, but coyotes can run at a speed of more than 20 miles per hour — which is significantly faster than a roadrunner!
A Glimpse Into the Future
Before Disney made their Tarzan movie in the '90s, the character already existed. He featured in Edgar Rice Burroughs' novel Tarzan of the Apes. What you might not know is that Burroughs predicted the movie all the way back in 1936.
He once stated that he saw it as an animated feature and that the end result "must approximate Disney excellence." Not a bad guess since production started some 60 years later, in 1995.
The Powerpuff Girls Revamp
Most people who have seen The Powerpuff Girls think that it's a pretty good kids' show, even if there are moments with more adult humor than you might expect.
In reality, The Powerpuff Girls was originally envisioned as a show for adults with a slightly more adult name. When Craig McCracken pitched it to Cartoon Network, they agreed to it as long as the series was reworked into a kids' show. Mostly, they just opted for a more kid-friendly title.
A Dark Decision for the X-Men
You would think that the cartoon you worked on becoming a hit would be a good thing. That wasn't quite the case for the writers working on X-Men: The Animated Series.
Even after the pilot was successful, the founder of Saban Entertainment cut writers' fees for each script. Julia Lewald, one of the writers, said that "his rationale was 'It's a hit. They want to be a part of it, so they'll take less money and if not, there's a line out the door of people who will.'"
Missing Hey Arnold!
Sometimes, the most upsetting thing about our favorite cartoons is learning that we were originally supposed to get more content! Hey Arnold! fans might be upset to learn that there was meant to be more.
Specifically, Craig Barlett wanted to go into Arnold's early life and give more background about his parents. Unfortunately, it was a dispute over Bartlett's contract that ultimately ended with no new contract. Sadly, we just won't know this planned storyline about Arnold's early life.
Removing Ren and Stimpy's Antics
Over the course of The Ren and Stimpy Show, the main characters get into plenty of misadventures. Some are really frightening. Eventually, written complaints to the network led to a series of removals from the show.
There were quite a few over the years but some of the notable ones include a decapitated head, a baby punching Ren, and more. For a show that liked to push limits, it's interesting to see what was allowed to stay.
Too Dark for Gargoyles
Anyone who remembers the Gargoyles series that started in 1994 will surely remember its dark tones. It actually wasn't always meant to be like that.
The creator of Gargoyles, Greg Weisman, wanted the series to veer more into a comedy than a drama but it didn't quite work out. After quite a few changes to the concept, the series Gargoyles went down in fans' memories as one of the darkest series Disney Television Animation made.
There Was Almost No X-Men
We've mentioned X-Men: The Animated Series a few times now. After all, it was a successful show that had plenty of fans during its run time. We almost didn't have the show at all, however.
This was because the first suggestion of an X-Men cartoon was rejected. In 1989, a pilot was put together for a show called Pryde of the X-Men that executives were disappointed by. That is except Margaret Loesch who had faith in the project and helped adapt it to the eventual X-Men: The Animated Series.
Toy Story's Sid
If there's one character from Toy Story that was incredibly frightening, it was Sid Phillips. You might remember him as the unsettling neighbor with a knack for mutilating toys.
Naturally, this concept is even more terrifying given that the protagonists are toys themselves. What's even more frightening, the character is supposedly based on a Pixar employee who enjoyed modifying his own toys when he was young. We hope that he was less frightening than the movie counterpart.
Steve's Departure from Blue's Clues
Blue's Clues is a show that's focused on problem-solving in a show for young children. Most kids from the '90s remember the former host, Steve Burns.
Even more specifically, it was Burns' departure from the show that led to a lot of sad, young fans. Later, it even spawned some dark rumors about why he left.  It was only after some 25 years later, that he revealed the reason behind his departure, but it wasn't anything so dramatic, since he only said that: "I refused to lose my hair on a kid's TV show."
Cow and Chicken's Surprising Origins
Cow and Chicken was a pretty successful show for Cartoon Network. Yet, something stood out to parents about the show's humor. In fact, the show is one of the earlier examples of adult humor in children's animation in the '90s.
The inside dirty jokes often stuck out to parents, so it's a little surprising to learn that the original plotline was based on a bedtime story that David Feiss used to tell his daughter just three weeks before Cartoon Network picked it up.
Pushing it Even Further Back
Beavis and Butt-Head were pushed back by MTV more than once, though. After numerous complaints, it was pushed to an 11 p.m. timeslot.
It even came with a handy disclaimer: "Beavis and Butt-Head are not real. They are stupid cartoon people completely made up by this Texas guy whom we hardly even know. Beavis and Butt-Head are dumb, crude, thoughtless, ugly, sexist, self-destructive fools. But for some reason, the little weinerheads make us laugh."
Taking on Shredder
The Teenage Mutant Ninja Turtles were almost every kids' favorite show for a time. The cartoons throughout the '80s and '90s helped rocket them to fame. However, it's only fair to point out that the cartoon was specifically catered to children.
Before that, they already had their own comic book with less of a kid-friendly approach. The first issue shows a brutal take on how the turtles handled their nemesis Shredder.
No Offense, Doug
You'll notice that some of your favorite cartoons might feature familiar voices. This is thanks to the work of your favorite voice artists. One voice actor that stood out was Cheryl Chase.
You might recognize her voice from Rugrats as Angelica Pickles or roles in The Ren and Stimpy Show. Yet, the actress turned down an opportunity to work on Doug saying that it seemed like a boring prospect. At least she was doing what she loved as exclusively as possible.
Futurama's Jurassic Bark
If you've seen the episode of Futurama titled "Jurrasic Bark," you might be wondering what could possibly be darker than the story of Fry's dog. It could have been much worse, though.
The episode was originally supposed to focus on Fry finding his mother, not his dog. They changed it to avoid explicit mentioning of mental illnesses and losing family members.
Censoring Rocko's Modern Life
Rocko's Modern Life is another cartoon that liked to test its boundaries. More than once, it slipped in a taboo joke or some other adult reference.
There was one scene that's been cut from reruns since its initial airing. In the episode "Road Rashed," Rocko and Heffer needed a place to stay. The cut scene where they stop at the "No Tell Motel"  featured crude jokes even some sound effects that leave little room for imagination, including the sound of squeaking beds.
No Sleep for Mrs. Potts
In Beauty and the Beast, Angela Lansbury played Mrs. Potts, a mother-turned-tea-kettle in the Beast's castle. It wasn't an easy role. This is particularly true given that her version of the song "Beauty and the Beast" is done in a single take.
Even more stressful, the actress did that take with no sleep as Lansbury had just flown in and hadn't slept all night on the flight. Not bad for a song that has gone down as a Disney classic since.
Some Changes to Sailor Moon
At this point, we've seen a lot of changes to cartoons to censor out certain content. Some changes tend to be regional rather than just being taken out completely.
When Sailor Moon was released in Japan, there was a section where the Sailor Warriors die and are resurrected. However, when the same episode was released in the United States, the characters didn't die but were rather "sent back to the Negaverse" to avoid mentioning their supposed deaths.
A Lot of Love for Didi
For most people, Didi Pickles is remembered as one of the parents in Rugrats. That concept is fairly innocent for the most part, save for some disturbing events that happened offset, in the animation studio.
In Slimed! An Oral History of Nickelodeon's Golden Age, Didi's voice actor Melanie Chartoff confessed that "I was invited into the men's rooms [at Nickelodeon's animation studio] to see the [inappropriate] drawing of Didi inside all the stalls. They had her decked out in leather."
The Wrought Origins of TaleSpin
TaleSpin gave us a lot of cartoon adventures that people loved. However, the series almost didn't happen at all but was rather created to fill a timeslot and avoid layoffs.
The animation team created TaleSpin. Given that the team had also worked on the movie The Jungle Book, they decided to loosely base it on their earlier work. By the end of it, it was written over the summer, recorded by October, and it aired in May of 1990.
That's a Lot of Dedication!
Speaking of Rugrats, the cast behind the show was more dedicated than you might think to baby characters. Elizabeth — or, sometimes, E.G. — voiced Tommy Pickles on a daily basis.
This included one session that she recorded while in labor! "I didn't really know. My doctor said I was fine. But…I would do a line, like 'A baby's gotta do what a baby' — hold, please. And I'd be like 'Ugh!' and the [engineers and directors] would say "Oh my God, E.G., you're having contractions every three minutes.'"
Tiny Toons' Brutal Warning
There are certain subjects that you might not expect to see in a cartoon. Yet, for a time, the "after-school special" style warning wasn't uncommon. Still, some thought that Tiny Toons went too far in their warning against drinking and driving.
The episode features the characters doing just that before they sail off a cliff to meet quite an unfortunate end. While it was well-meaning, some parents thought that it went too far for such a young audience.
Dark Facts About the Dark Knight
Batman: The Animated Series was praised for a lot of things. One thing that many fans noticed was the consistent, dark atmosphere in an animated show. Well, as it turns out, there's a literal dark fact behind this one.
Instead of drawing on standard white paper, the animators for the series created backgrounds on black paper to give Gotham a darker look. This was a clever way to make sure everything kept the signature tone.
Asking a Lot From Doug
We've focused a lot on the voice actors behind your favorite cartoon characters. This has included a lot of darker notes that you might not have guessed. Billy West found himself in an unfair situation after he had already performed the voice of Doug since 1991!
When Disney bought the series, they asked for West to come with. The only catch was that he'd have to play Doug and eight other characters without any additional compensation for the new demands. It was an offer that was impossible to accept.